In today's day and age, we're overrun with TV series – and we're in two minds about it. On the one hand, we're totally stoked that we have so many episodes to sink our teeth stuck into (as well as the ten tubs of Ben & Jerry's we bought for the binge session). But on the other hand, we're totally OVERWHELMED that we have so many episodes to get through. Where do we start? Which series should we see first?
Do we have the capability to watch three different series at the same time? Oh man, this is so hard. However, there are some TV series that reign supreme. Yep, it's fair to say that nowadays, the likes of Stranger Things (season 1 AND 2 – we don't discriminate), How to Get Away With Murder, Game of Thrones, The Walking Dead and Riverdale constitute some of the greatest TV series currently being made – though if you want our opinion, it's Riverdale that's the real top dog at the moment.
---
---
Based on the characters within the epic Archie Comics universe, Riverdale has taken the world of Netflix by storm ever since its release in January 2017. This show follows the life of Archie Andrews as he goes about his life in the tiny, secluded town of Riverdale. But of course, it's not all sweetness and blossoms in Riverdale. Instead, there's crime, infidelity, brutal massacres, and a hidden darkness that is beginning to make its way out of the fog. Basically, it's just awesome television. With an incredible cast under its belt, Riverdale has proved immensely popular – but there is one character who is proving exceptionally so, thanks in part to his being played by the original teen heartthrob from Beverly Hills, 90210 in the '90s. We're talking, of course, about Luke Perry.
From 1990 until 1995, Luke Perry dominated our screens when he appeared as brooding Dylan McKay in the popular TV series. This show followed the life of twins Brandon (played by Jason Priestley) and Brenda Walsh (played by Shannen Doherty) as they moved from their hometown in Minnesota to the thriving, rich, and flashy lifestyle of Beverly Hills. With a whole host of new friends (including the brooding Dylan), the siblings go through an awkward transition into a life of debauchery, love, friendship, parties, shopping and more.
Although we loved the show, nothing came close to our love for Dylan and Brenda's relationship. Despite the fact it has been a couple of decades since 90210 has graced our screen, Riverdale's Luke Perry has proven that he still cares for his then-on-screen girlfriend, as he paid a heartwarming tribute to Shannen Doherty…
A relationship to remember
An epic TV show would not be complete without an epic romance. In All in the Family there was Archie and Edith Bunker, in The Simpsons there's Homer and Marge (truly a romance that defined generations), in Friends, there was Ross and Rachel (who, obviously, were each others' lobsters), in Stranger Things there's Eleven and Mike, and in Riverdale, there is Betty and Jughead. However, the winning couple just has to be Dylan and Brenda from Beverly Hills, 90210. Amazingly, after a tough few years, Luke Perry has proven that he still cares for his on-screen girlfriend, Shannen Doherty, and our hearts can't take it.
A missing cast member
Beverly Hills, 90210 fans were noticeably upset when their favorite cast member didn't attend the epic show reunion at the Illinois REWindCon '90s nostalgia convention. Although they were ecstatic to see all of the youngsters from the TV series all grown up and back together, they couldn't help but feel like there was someone missing from the group. Sadly, Shannen Doherty couldn't make the reunion because of her current battle with cancer. However, the rest of the Beverly Hills, 90210 alumni made sure she wasn't left out from the mix, and Luke Perry made sure she was given a fitting tribute.
REWindCon
At the 2016 REWindCon, almost all of the cast from the original '90s TV show showed up – and the fans absolutely loved it. The epic TV show ran for a whopping 10 seasons and was produced by the hugely talented Aaron Spelling. Alongside the awesome storylines, Beverly Hills, 90210 gave us an incredible cast, and Tori Spelling (who plays Donna), Jason Priestley (who plays Brandon), Jennie Garth (as Kelly) and Luke Perry (playing Dylan, of course) all showed up to the nostalgia festival to say hello to their fans and followers of the show.
A power couple
Like many TV shows, Beverly Hills, 90210 featured an iconic power couple. As such, although Luke Perry's character was famous for being a brooding loner, he soon found love in the form of Shannen Doherty's character. The couple stayed together through numerous seasons of the show and were firm fan favorites. Unfortunately, their relationship reached a tumultuous end when they became embroiled in a dramatic love triangle with Kelly – despite the fact that Kelly was Brenda's bestie. Oh, girl.
A sad parting
Although fans were sad to see the power couple split up, they were even more emotional when Shannen and her character left the show just before the start of season five. Before we had time to digest the devastating news, Luke Perry shocked us even more by announcing his parting from the show, just two years after. But it wasn't all bad news, as we later find out that the pair had been living together after moving to London. However, our happiness was made bittersweet when Perry made his return in season nine (yay!) while announcing that the two had broken up (ohhhh). Give us a break, guys.
Off-screen romances
As well as the numerous on-screen romances in Beverly Hills, 90210, it seems that the cast of the show was also getting pretty busy off-screen. In fact, Jason Priestley has noted countless times that there were various inter-cast relationships going on when the cameras stopped rolling. One of the most notorious lotharios on the set was Brian Austin Green, who played David Silver. It's thought that he had relations with the likes of Vanessa Marcil, Tori Spelling, and Tiffani Thiessen. There were even rumors about Luke and Shannen getting up close and personal…
'No control'
In fact, it became common knowledge that Luke Perry and Shannen Doherty were extremely comfortable with each other. This information was used in the 2015 movie documentary, The Unauthorized Beverly Hills, 90210 Story. In this movie, Luke Perry and his character were played by Jesy Kinney, and Shannen Doherty and her character were played by Samantha Munro. Their close relationship was parodied, with Jesy getting intimate with Samantha, and stating that he had "no control" over his hands when he was around her.
Their own lives
As much as Beverly Hills, 90210 fans wanted Doherty and Perry to be a couple in real life – in the end, it just wasn't the case. Instead, the pair went on to have their own lives and relationships. In 1993, Shannen married Ashley Hamilton (the son of the legendary actor, George Hamilton). Their marriage only lasted six months, however she soon found love in celebrity poker player Rick Salomon. Unfortunately, the marriage once again ended a short while later, but she has since been happily married to film producer Kurt Iswarienko since 2011. Meanwhile, Luke Perry tied the knot in 1993 to Rachel Minnie Sharp, though they ended things a decade later.
Behavior
Although Shannen Doherty was a much-loved character and star of the iconic show, her experience was not without hardship. The actress struggled with bad behavior and outbursts on the set. In fact, she had numerous altercations with her fellow Beverly Hills, 90210 star, Jennie Garth, while the two were in between takes. It is also believed that she got into numerous fights with the producers of the show because of her late-night partying, her tardiness and her rudeness. Allegedly for Shannen, this was all part of being a celebrity.
Invited back
Despite her celebrity antics and bad behavior, Shannen was a much-loved member of the team and a hugely popular character on the show. Because of this, she was asked to return to the iconic zipcode to appear in the reboot of the TV series in the late '00s. She reappeared as an older model of her younger self, and once again entered into a love triangle between Dylan and Kelly. She eventually exits the show intending to adopt a baby girl from China.
Some sad news
However, Shannen Doherty's life took a turn for the worse in 2015 when the actress was diagnosed with breast cancer. This sad news was met with messages of condolences from fans across the world, which became even more prominent when Shannen was told that she had multiple tumors in her chest. As a result, she had to have a mastectomy. As she continued to battle the disease, Shannen also undertook sessions in chemotherapy and radiotherapy to try and rid her of the cancer once and for all.
A reunion
Because of her struggles with cancer, Shannen Doherty was too ill to reunite with her former cast members and friends at the Beverly Hills, 90210 reunion at the REWindCon in 2016. However, that didn't mean she wasn't there in spirit. Sad to hear the news of her battle with the disease, her former co-stars made sure that she was remembered and recognized for her role in the epic TV show. Although they all had their own tributes to the actress, it was Luke Perry who instigated the glowing reports that would follow.
A perfect couple
As he made his way down the red carpet at REWindCon, Luke Perry made sure that he left the floor open for his absent co-star – because, without her, the cast and crew wouldn't be where they are today. In fact, he noted that Brenda and Dylan's relationship was one of the best things about the original Beverly Hills, 90210 TV series, and one of the best TV romances to be included in any TV show ever! In an interview, Perry made it clear that Shannen was a major part of the show, even if her contributions to the series are often minimized by the press.
Nothing but niceties
Perry's warm words were a touching surprise, since after his time on Beverly Hills, 90210, Perry has often been accused of leaving Shannen Doherty in the past and ignoring her, particularly now with his newfound fame on Riverdale. Despite these claims, Luke made sure that he had nothing but niceties to say about his former co-star and on-screen girlfriend. He maintained that Shannen was a "very big part" of what made the show incredibly successful and popular, and added that he feels privileged to have been able to work alongside her.
She's a fighter
Although he was full of love and compassion for Shannen Doherty on the red carpet of REWindCon, Luke Perry confirmed a couple of months later that he had yet to talk to Shannen about her cancer battles. He wanted everything to be on her terms – as she was the one who was suffering from the disease. He needed to know that talking about her issues wasn't going to upset her, so he waited until she was ready. Nevertheless, he told Us Weekly that he knew she would pull through, because "she's brave, she's a fighter."
Fighting a good cause
More than anything, Luke Perry wanted Shannen to know that she was not forgotten. He wanted her to know that everyone was thinking about her and that everyone was so proud of how she was handling her situation and the way that she was dealing with her diagnosis. Throughout her treatment, Shannen Doherty kept her fans and the general public up to date on her condition to raise awareness for the disease. Throughout his career, Luke Perry has also used his platform to raise awareness for Fight Colorectal Cancer and numerous other charities.
Another Beverly Hills star
Fans of the show were honored to see Shannen's co-star and former on-screen boyfriend rally for her health – but he wasn't the only Beverly Hills, 90210 star to wish her well. Although they had struggled to get on both on-screen and off-screen, Jennie Garth made sure that she showed her support to her former co-star during her cancer battle. In a heartfelt Instagram post, Jennie maintained that Shannen was "the strongest lady I've ever known" and that she was completely in awe of the decorum, grace, and strength she has shown during her ill-health.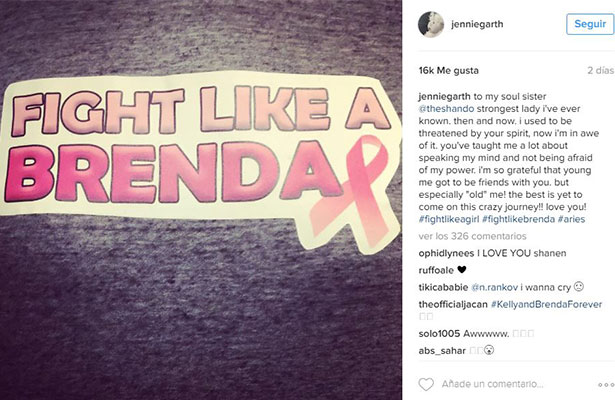 A mark of respect
Alongside Jennie Garth, Ian Ziering also wished Shannen well during her difficult time. The actor, who starred as Steve Sanders in the original Beverly Hills, 90210, appeared on Entertainment Tonight to publicly address her struggles and the fact that he believed she would pull through. In his interview, he noted that Shannen was one of the strongest people he knew and that if she could get herself through the tough period on the show where she dealt with negative comments and negative behavior, she could get through this ordeal.
She's gonna be okay
Joining Ziering on the set of Entertainment Tonight was also Jason Priestley, who played Shannen's on-screen twin brother. After spending numerous years working together, Jason was still surprised by her incredible strength during her cancer battle. He praised the actress for publicly documenting the stages of her experiences, from the diagnosis to the struggles of chemotherapy, and shaving her head in front of the camera. He believed that to be incredibly humbling and brave, and couldn't believe she was still inspiring others during such a personal experience. He noted that Shannen was a "tough fighter" and that "she's gonna be okay."
Throwing it back
Although she did not meet up with them on the red carpet, Shannen Doherty saw all of the tributes her co-stars left for her. She watched all of the interviews, she read all of the articles, and she liked all of the Instagram posts. It seems this outreach made her feel nostalgic about her time on Beverly Hills, 90210, as, in March 2017, the actress posted two retro photographs of her time on the show. One of the photos showed her with Jason Priestley, while the other was with Luke Perry. With these photos, she wrote a caption that she was incredibly proud of her experience on the show.
A new development
Just a month after posting those throwback photographs, Shannen Doherty updated her followers on a new development in her cancer journey. This time, rather than posting with more devastating news about her struggles, she had some positive news to share: her latest test results had shown that she was now in remission from breast cancer. Although she was ecstatic to tell her fans, she was truthful about the road ahead, letting her followers know that the "next five years arecrucial" and that the journey isn't over – but she can now live a happier life knowing that the hardest part is over.