Patricia Krentcil's name may not be familiar to you, but her nickname, Tan Mom, sure is. Patricia was thrust into the lime light in 2012 after her daughter's school nurse called Child Services on her. The reason? She believed that Patricia took Anna to a tanning salon as the girl was burnt. Patricia herself was known as a tanning aficionado and was therefore thought to be guilty before she was even questioned. In the state of New Jersey, it is illegal to enter a tanning booth under the age of 14, Anna was 6.
Patricia was found not guilty of what she was accused of, but the damage was already done. Media outlets from all over the country noticed the overly tan mom and decided to make her a specimen to dissect. Patricia didn't have a problem, initially that is, with the fame and money that came her way. The nation knew Tan Mom for obsession and addiction to tanning and she had no problem with that. "I've been tanning my whole life. I like the sun. I did overdo it," Krentcil said. "Now, I've gotten older, I don't even care."
Over the years, Patricia was invited to events, roasted on Saturday Night Live, talked about in the media and mocked throughout. She has since lightened up (pun intended) on the tanning and is looking a lot more 'normal'. She has replaced some of her tanning with her new love of Botox (and interesting decision) and has kept the most important thing in her life at top priority – her children. She has been through a lot and has been made an example of. While we don't condone all of her behavior, we are sure she didn't intend on the world knowing her as Tan Mom for the rest of her life.
---
---
Remembering the Tan Mom fiasco
Back in 2012, Patricia Krentcil was under media and public scrutiny for taking her six-year-old daughter to a tanning salon with her. Patricia was addicted to the tanning bed, but this time the visit was for her daughter, Anna. It was Anna's school nurse who drew attention to the young child's sun burn. It was then that Anna said to her that she went "tanning with Mommy." This started the fiasco that was Tan Mom.
Ramifications
After Anna told the school nurse that she had gone tanning with her mother, the nurse proceeded to call Division of Youth and Family Services. In New Jersey, where Patricia and Anna live, entering a tanning bed or booth under the age of 14 is against the law. Once the story broke, when someone got wind of it, photographers and news outlets flocked to the New Jersey town to see for themselves.
Initial media coverage
What the media found was a ridiculously tan mother, whose skin color was between orange and brown, and a sweet little girl. Patricia was bronze beyond recognition, having many who saw a photo of her think she was perhaps tanorexic. As a result of allowing her daughter into a tanning booth, Patricia was charged with second-degree child endangerment, and was subsequently banned from more than 60 tanning salons in the vicinity of her home.
Defending herself
In her defense, Patricia said that Anna misunderstood the situation. She said that she went with her to the tanning salon but didn't get into the booth. She continued by stating that the burn that Anna was showing was due to her playing in the sun on the day in question. Patricia was eventually cleared of all charges against her in regards to endangering her daughter.
Tanning dependence
What Patricia was experiencing was tanning dependancy. A tanning dependence "is a syndrome where an individual appears to have a physical or psychological dependence on sunbathing or the use of ultraviolet (UV) tanning beds.[1] Compulsive tanning may satisfy the definition of a behavioral addiction as well." This explains Patricia's look and constant need to go to the tanning salon. Something she would try to refrain from after this debacle.
Before it all
Long before we knew her as Tan Mom, Patricia Krentcil was a stunning young woman (with a normal complexion). Patricia was an aspiring model when she was in her 20s, as we can see from this beautiful photo of her. She was once a natural blonde with green eyes and smooth skin. When she got noticed by the mainstream media, Patricia was looking far more leathery than anything else.
How tanning started
Patricia's introduction to the tanning salon happened long before her run with the law. Her tanning habits started thanks to her father, who was a Goldman Sachs banker. He had a sunlamp for his own personal use in their home in Cold Spring Harbor, New York. Patricia would tan at their home sometimes but didn't start to tan religiously until she was 23.
Educated woman
You may be surprised to know this but Tan Mom, Patricia Krentcil, is actually a well-educated woman. She attended and graduated from the University of Florida with a degree in business. She used to work as a buyer for Bloomingdales in Chicago. Patricia was an ordinary woman who found her love and had gotten married, but everything changed when she was pregnant with her first child.
Terrible ordeal
When Patricia was pregnant with her first child, her now-23-year-old daughter Ashley, she was leaving a bar with her first husband when a man hit her over the head, knocking her out. The man hit her with four plates, rendering Patricia unconscious and in serious condition. When she was out of the woods, she was left with poor balance. This balance problem had people think that Patricia was drunk as she was walking, when in fact that was not the case.
Consequence of fame
Patricia is a mother of five children, although we know Anna more than the rest considering the situation. Her children's ages range from 8 to 23 years of age. After the media coverage and the world's opinion of her came flowing in, Patricia and her family went to family therapy, something that cost the family dearly. "The pain's there. It will always be there. It broke us — $100,000 at least."
The almost divorce
Patricia and her second husband, Richard Krentcil, almost divorced in 2014, as a result of the 2012 event and the pressure from the rest of the world. People were asking themselves why Richard didn't do anything to stop his wife from her obsession and from taking her children down with her. Her tanning seemed harmless in the beginning, until it was out of control.
Celebrity
As horribly as she said she was treated, getting that kind of attention from the media was something Patricia grew addicted to as well. She loved the spotlight and the money she was making as a result. After news of her broke, shows like Howard Stern and Dr. Drew called her up to talk with them. She was also invited to nightclubs, red carpets and other talk shows.
Financial gain
Patricia was also a part of a rap song in 2013 called It's Tan Mom, as well as an adult video titled King of New York 2, in which she took part but remained entirely clothed. Her appearances in the various genres of entertainment had Patricia raking in the money. "I made a ton of money — all the shows paid."
Public opinion
After the interest in her faded and people went on to care about other things, Patricia's life went awry. While the mainstream media didn't care anymore, people remembered her as Tan Mom and thought she was less than an adequate mother. "I couldn't leave my home. I couldn't eat out — I couldn't get detergent at Kmart. Everyone looked at me like I was a horrific mom. Basically, everyone here hated me. My kids were angry and fed up. They were embarrassed, made fun of. Teachers made fun of me in front of my kids."
Comforted by the bottle
After the fame disappeared and people's true nature was rearing its ugly head, Patricia could no longer deal – she turned to drinking. "At that point I was drinking to forget what was going on. [But] I don't think I was an alcoholic," she said. Patricia entered a 28-day program at a rehabilitation facility in 2013. "Everyone turned their backs. I was all alone."
Business opportunity
After her time in the facility, Patricia returned home to get back in the game. She took her love of tanning and decided to make it her full-time business. She invested $15,000 of her own money in the tanning salon Sun of a Beach in the town where she lives, Nutley. This was one of the only tanning salons that allowed her to continue tanning after the ban on her was in effect.
Co-owning a tanning salon
It was said that Patricia has taken out a $25,000 loan out, in addition to her $15,000 initial investment in the salon, in order to become one of the co-owners of the business. The current owner said that while this is the plan, nothing official has been signed as of yet. Martino Poli, the co-owner said that Patricia "expressed interest. She said, 'I have the money. I want to partner up.'"
Tanning today
Over the years, Patricia has calmed down with the tanning. This year she was interviewed and said, "Right now, I'm a good tan. I'm not as dark as I used to be." She used to go to the tanning salon every single day back then, these days she goes to the salon three times per week. Looking far more 'normal' these days, she says that aging is making it harder for her to tan.
Botox
Now that Patricia isn't as into tanning as she used to be, she expanded her horizons and learned the whole new world of plastic surgery and injections. Patricia has swapped her days in the sun (booth) for several Botox injections every few months. Now that she is getting older, as she is entering her 50s, Patricia likes to get injected with the youth serum.
Replacing tanning with Botox
On the topic of her Botox treatments, Patricia said, "I started reading about celebrities having Botox and realized that could give me the same confidence without damaging my skin. I couldn't believe the results." While we are happy to hear that she is not tanning as much as she used to, Botox is also not something you want to get addicted to.
Her connection to Howard Stern
Patricia has been on The Howard Stern show a couple of times. Howard seems to have a soft spot for Patricia, from some unknown reason (considering he isn't the most pleasant man himself). Howard has given her money on occasion, which Patricia has admitted, and had kept tabs on Patricia over the years. In 2014, Patricia was at Howard's 60th birthday party in New York City.
SNL spoof
With the media all over Patricia, it was only a matter of time before Saturday Night Live did a sketch about her. In 2012, actress Kristen Wiig spoofed the overly tanned woman by wearing a blonde wig and painting her skin orangey bronze. Wiig roasted Patricia on that episode, something that the world recognized immediately and enjoyed laughing over.
An action figure
Tan Mom has an action figure, yes she does. In 2012, Patricia was immortalized in action figure form when a doll looking like her was created by a toy company wanting to capitalize on her popularity. For $30 you too can have a Tan Mom action figure! The product's description reads: "Get one for all your TANOREXIC friends." The owner of the website selling the doll, HeroBuilder.com, says that it was supposed to be funny.
Kids first
Patricia may act a certain way sometimes, and will have stories about her in the media, but she says that no matter what, her children come first. "The only thing I've ever cared about and will care about is my kids. My only basis in my life is my kids." This whole thing started as an accusation on her parenting, which later spiraled out of control due to how dark she was.
Back in the news
It has now been five years since the incident that made Patricia 'famous' for all of the normal 15 minutes. Today, Anna is 11 years old. Patricia and her family are in the news again for a very ironic reason – Anna got home from school with a sun burn and Patricia was livid. Considering this all started out because of a tan, this is as ironic as it can get.
Livid Patricia
Patricia said, "She was totally burned. I packed her [sunscreen] and she came home like a french fry." The reason she was so upset was not only because her daughter had been exposed to the sun in a harmful way, but that it happened under the same watchful eye as the nurse who first called Child Services on her five years ago! "After what they did to me, they didn't put lotion on her? This time, I'm going after them."
Lack of media attention
While initially it was hard for Patricia to be without her fame, now, she is very happy to have her street back to being as quiet as it used to be. "For a year I had a media circus outside of my home, climbing my trees. It was absolute insanity." Now, the only noise you will hear are cars going into garages and an occasional motorcycle going by.
Pushing for a photoshoot
Following on from her new-found fame back in 2012, Patricia wanted to take her new celebrity status to new levels in an attempt at a career change. The mom of five tried to pursue the opportunity to feature in the magazine 'Playboy.' Having stated that she had been practicing how she would pose at home, Patricia contacted the magazine to try and organize a photoshoot to appear as the feature in their magazine. Imagine receiving that email!
Unfortunate answer
Unfortunately for Patricia, the answer wasn't the one that she wanted. The magazine politely rejected her offer to appear in the magazine, with it being reported that Hugh Hefner himself stated that he would not allow her to feature in the magazine or any other of the franchise's media as she didn't have the right look that they were going for – ouch! Patricia apparently wasn't too disappointed though as she stated she had other offers for modeling.
Taking up an offer
One offer that Patricia Krentcil did take up was definitely taking it one step further than her attempt at a nude shoot for 'Playboy.' Patricia took up the opportunity to appear in an adult film! Patricia only featured in a cameo role in the movie, but did cause a stir when the film was released! With criticisms from the media on her behavior, it appeared as though she had once again been drinking before she turned up on set.
Receiving a roasting
In the summer of 2012, Patricia received a very different type of roasting to the one in the sunbed she was typically used to! Appearing on a show called 'Hot Mess' the host began to roast her new fame and how Patricia's name had got out there in the first place. With the topic being highly controversial it wouldn't be a surprise that Patricia may have needed some Dutch courage to help her out for the interview, but she may have taken it a bit too far…
Not a good start
The event for Patricia hadn't started off in the best way as before even making it onto the show Patricia had already had an eventful time on the red carpet. She was seen to be stumbling down the red carpet and tripping down on more than one occasion as she was having her photo taken! During her time on the show, Patricia was also filmed swearing in defense of her lifestyle, and telling people just to let her get on with it… Awkward.
Making a mess
Patricia, unfortunately, took the interview too far and had been drinking for a lot of the afternoon before appearing on the show! As this was before her time in rehab for her dependency, the mom hadn't yet learned control and was visibly struggling to keep her composure on screen. Patricia ended up having to be helped off stage by two of the other people on the show as she struggled to stay upright in her chair.
Not just TV fame
Patricia found herself being hired for a vast number of different reasons, but not all of them involved being on screen. One of the deals the celebrity mom made was to promote a book that had been written by a skin care professional about a regime to follow for healthy skin. Some of the recommendations were just as controversial as Patricia herself though! It appeared as though nothing could be simple in the life of Patricia.
Promoting surgery
While undergoing her botox to undo the effects that all the years of tanning had done to her face, Patricia was promoting the book. However, the book actually encouraged having botox yourself! In a bold move, the author had written about having the procedure to keep a youthful complexion and was showcasing the effects through Patricia – perhaps not the best solution to rewind the aging sunbeds had caused. Many people worried about her health after having the treatment as well as being concerned about replacing one addiction with another.
Keeping up appearances
During this time Patricia revealed just how she kept on top of her glow and the busy routine she would have to go through every week. Staggeringly, Patricia confessed that to keep topped up on tan she would have to visit the tanning salon five times a week! Keeping the color seemed to be a full-time job for the mom, but with it making her so famous it appeared as though she was now caught in a trap to keep going.
A musical career
Following on from her many other business ventures in the celebrity world, Patricia also found herself being offered a recording contract! One record company jumped at the chance to give the new celebrity some more minutes of fame by recording a number of singles together. The music didn't go down very well, and there was never an album deal reached, but she gave it her all on her singles. Patricia surely did know how to take an opportunity when it was presented to her.
Another television appearance
Getting given another opportunity to appear on TV, Patricia was once in the spotlight. However, this time it wasn't about her relationship with her children, but instead her husband! Along with the added pressures all the media attention had put on the couple, they both appeared on a show named 'The Test' where Patricia's husband performed a lie detector on being faithful… and failed – ah. The pair managed to work through their troubles at the time though it seems.
Creating a scene
While Patricia was able to keep the media busy with her shocking glow and many interviews, she was also able to cause quite the scene when she attended her friend Howard Stern's birthday party. Luckily the background wasn't orange so we could see Patricia as she showed off the long black number she had chosen for the occasion, but she was determined to create quite the stir! Tan mom sure does know how to get the cameras on her it appears.
Giving cameras a shot
Patricia nearly revealed more than she meant to at the 2014 event while on the red carpet ready for her snaps. Following on after many famous faces, Patricia appeared to be pulling what some would call interesting poses as she was in front of the camera! She then seemed to fall as she went to remove her shoes. Perhaps Patricia wanted to show off the new tan she had just had done on her feet? Whatever the case, it wasn't the most graceful of appearances!
Time for change
Amidst all the publicity, Patricia tried to rebrand herself as a new and changed person but was still, unfortunately, battling her own demons during this time. Donning a new hairstyle with some platinum blonde extensions saw Patricia swearing in a video of how she was going to change but was still unable to beat her tanning addiction she was suffering through. It appeared as though Patricia was too well known at this time to be able to break away from the 'tan mom' reputation!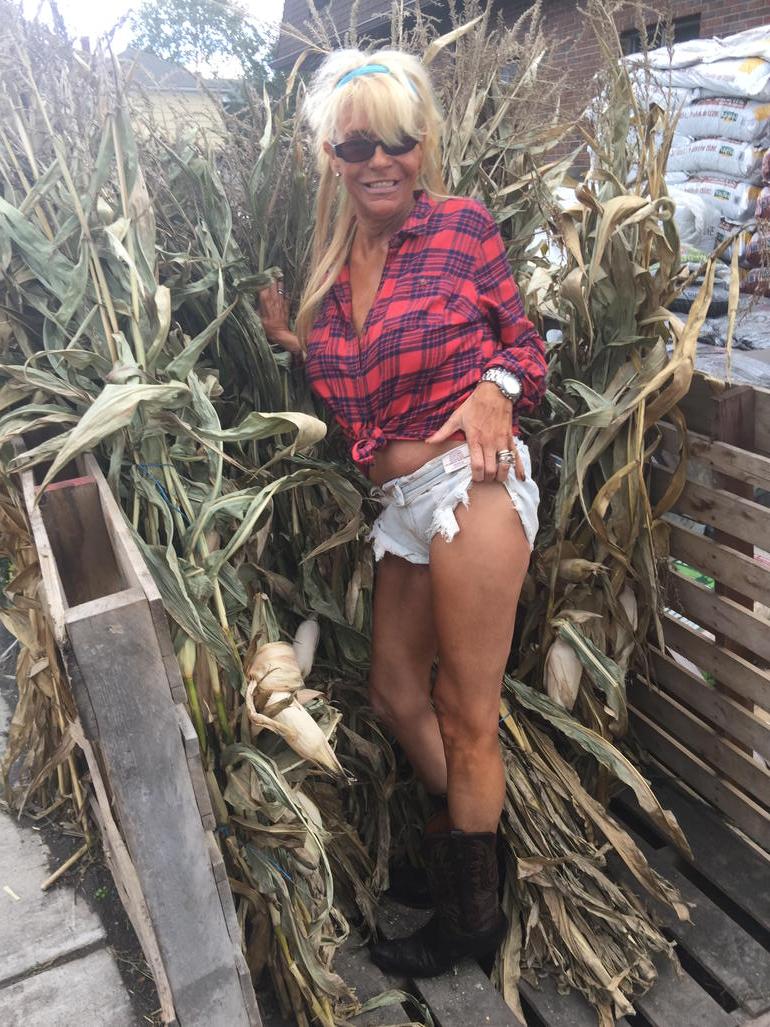 Inspiring change
Patricia's story managed to spark outrage around the globe and was an excellent topic for conversation, but she did manage to change the law with her antics! Following on from the worry of her daughter being tanned, the age was raised from 14 to 17-years old for the minimum anyone could use a tanning bed in her local area. While she may not have got famous for the right reasons, Patricia did do some good with her story.
Recollecting
Patricia said, "I didn't ask for this. Sometimes I wish I was just a normal mom. But I'm not that person; I'm different. I'm a mom who tans, but . . . I'm more than Tan Mom." She also said that the investigation in 2012 was a witch hunt and that she was treated horribly by the Nutley Police Department. "I didn't know if I'd see my kids again," Krentcil said. " I still have nightmares. I did nothing wrong."
Making a new name
Patricia has dramatically changed her habits since she was first noticed in 2012! Cutting down on the tanning (although still rocking a sun-kissed glow) she has appeared on many news programmes, and talk shows to express how she wants people to recognize how much she has changed. Patricia appeared on Dr. Drew's show where she personally thanked him in a video for his support through such a difficult time in her life, which he got very emotional over.
All natural…mostly
Patricia was publicly challenged to go without her religious tanning routine on the sunbeds for a month in order to kick her habit and change her lifestyle. She obliged, and the results have given us the woman we can barely recognize today! Admitting she does still tan, Patricia confesses she now opts for a tan coming straight from the bottle to help protect her skin and make it look more natural, and we think she looks so much better for it.
Personal effects
Over the years of her and her family's lives being so widely followed Patricia has recently spoken about how much the whole ordeal affected them all. With her marriage nearly ending, having to spend money on counseling, and being verbally abused by members of the public, Patricia has stated how no one realized how much they were affecting the family with what they were doing! Hopefully, they can all put the past behind them and move on from the commotion.
Husband was by her side
Throughout the entire ordeal with Anna and the media, and despite the fact that it did put strain on their marriage, Richard Krentcil never wavered from his wife's rebuttal of her accusations. "I knew it didn't happen. Whoever was prosecuting, they wanted to make a name for themselves. Why would there be specific (burn) spots if she was in a tanning bed?"
Looking back
Looking back at everything now, Patricia acknowledges that her choices, such as doing some of the events and shows, were wrong. "I did not want to do it. A lot of it was not managed right," she says. "I was pushed into a lot of things. I knew it wasn't going to work for me. That's not who I am." Those events did little to help her image, in fact, they ended up hurting her more than anything else.