Celebrities have to give interviews pretty often, since promoting their projects is a big part of their jobs. Usually, these interviews are fairly regular, with the same old questions repeating over and over. Occasionally, they can even be pretty funny. But sometimes, they go completely off the rails. Whether it's because the interviewer went too far with their questions, or the celebrity was acting up – these interviews went so wrong, they're cringe-worthy to watch.
Jesse Eisenberg
The Social Network star Jesse Eisenberg has quite the reputation for being somewhat rude, but this particular interview for Now You See Me just went from bad to worse.
He called the interviewer – Romina Puga – "the Carrot Top of interviewers," and told her not to cry now, but after the interview – or it would look like his fault. The whole interview is filled with playful banter as well as self-esteem hits, and at the end of it, Romina concludes the catastrophe by telling him, "You're such a jerk."
Robert Downey Jr.
Anyone who even remotely knows what Robert Downey Jr. is about, knows that he's not the kind of guy you can bully into things. This 2015 interview with Channel 4's Krishnan Guru-Murthy started off normally, with questions about Robert's role in Iron Man and about acting, and quickly went downhill.
Guru-Murthy suddenly directed the conversation in a whole different way, insisting on asking Robert about his personal life and past troubles. Robert remained completely polite, but that interview got shut down so hard by his publicists.
Samuel L. Jackson
Things got hilariously wrong when a reporter confused Samuel L. Jackson with Matrix actor Laurence Fishburne. He asked him if he got a lot of reactions from his Super Bowl commercial – one that Fishburne had done – and the actor seemed confused, before realizing the mistake.
"I'm not Laurence Fishburne!" he yelled out. He added, "We may all be black and famous, but we don't all look alike!" The host apologized profusely, but Jackson kept giving him a hard time for it through the entire interview.
Keira Knightley
This interview was part of Keira Knightley and Benedict Cumberbatch's press tour for The Imitation Game. Now, everyone knows these press tours can be extremely exhausting, as actors get up very early to do back-to-back interviews.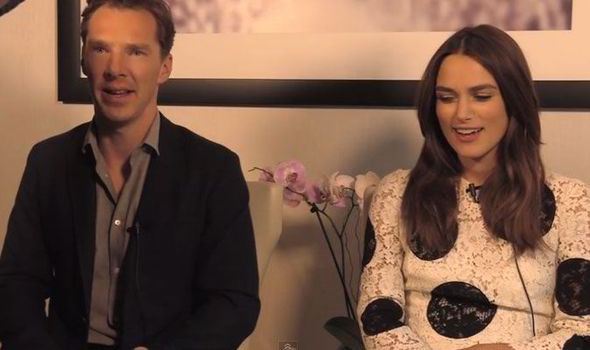 One interviewer thought he'd mention to Keira that she looks worn out, which is something just you don't say. Benedict immediately rose to her defense, telling him, "That's not a nice thing to say to one of the most beautiful women on the planet," and Keira added "Yeah, f*** you." Now that's how you shoot down a rude remark!
Quentin Tarantino
Pulp Fiction director Quentin Tarantino has become legendary for his films, which don't exactly hold back when it comes to graphic violence. During his lengthy career, he's been asked quite a few times if he thinks his movies have any negative affect on people, or encouraged real-life violence.
So when Krishnan Guru-Murthy decided to bring up the subject, Quentin did not like it. As Guru-Murthy didn't want to change the subject, Quentin threatened to shut him down, saying he won't be bullied into answering questions he doesn't want to – and rightfully so.
Mila Kunis
On their Friends with Benefits press tour, Mila Kunis and Justin Timberlake visited Moscow for a press conference. Mila, who was born in Ukraine, knows Russian and was answering questions in her native language.
But when one reporter asked Justin a strange question, she couldn't help but stand up for her co-star. The reporter asked why Justin went from show business to film, and why it wasn't enough for him. Mila asked, "What would you rather have him do?" And added, "Why are you here?" to imply we all get to choose what we want to do and it's our own business.
Kristen Wiig
When the hilarious duo, Kristen Wiig and Bill Hader, were promoting their film The Skeleton Twins on Denver local news, it quickly became apparent that their interviewer didn't really bother to watch the movie.
Anchor Chris Parente asked Kristen if she had any advice about going nude. When she seemed baffled about the strange question, he said, "You do it in the film!" to which she replied, "Not this film." Although it was pretty awkward, they laughed it out, and Chris later wrote a post laughing at his own lack of research.
Dakota Johnson
Dakota Johnson and her mother, actress Melanie Griffith, went on a live interview at the 2015 Academy Awards red carpet. Things got pretty awkward right off the bat, when the reported introduced Dakota as Melanie's "little girl."
Then she asked Griffith if she's seen Dakota's film, 50 Shades of Grey (as it has some pretty daring scenes). Griffith said she didn't, and Dakota said "maybe someday," but her mother seemed reluctant to watch it at all. Dakota ended up snapping, saying, "Alright! You don't have to see it," and looked genuinely hurt.
Jessica Simpson
Ellen DeGeneres is one of the most talented hosts on Television, but even she struggled interviewing Jessica Simpson. The singer and fashion designer started off by saying she got an IUD, so "nothing's gonna get in that uterus."
She then had a hard time coherently answering simple questions like what kind of things she and her husband like to do, and how long they've been married. She came off so ditzy, even Ellen turned to the camera and just stared at it, unsure how to react.
Jim Carrey
Jim Carrey is a brilliant actor, but he's also gained a reputation for being eccentric. He also made E! news reporter Catt Sadler feel uncomfortable during a red carpet interview at the Harper's Bazaar Icons Party.
She tried to ask him a few simple questions, and he responded with strange answers. "There's no meaning to any of this, so I wanted to find the most meaningless thing that I could come to and join," he said. "I don't believe in personalities, I don't believe that you exist, but there is a wonderful fragrance in the air." All she could really do is stare at the camera.
Scarlett Johansson
Scarlett Johansson, like many other actresses, is often asked weird question in interviews. In one interview for Avengers, she was asked whether she was "able to wear undergarments."
She replied, "You're like the fifth person that's asked me that," and added, "Since when did people start asking each other in interviews about their underwear?" He asked her whether it was inappropriate, and she pretty much let him know that, yes, asking a person whether they're wearing undergarments or not is just wrong. Although she was nice about it, she certainly stood up for herself.
Chelsea Handler
Comedian Chelsea Handler is known for speaking her mind, and she certainly didn't hold back during a 2014 interview with Piers Morgan. She actually told the British host that he was a "terrible interviewer," because he paid no attention to her during the commercial break.
He replied that she just wasn't keeping his attention, which is pretty rude if you ask us. "You have to pay attention to the guest you invited on your show," the former talk-show host fired back. "It doesn't matter how interesting I am, you signed up for this job." Yikes!
Sebastian Stan
This interview may not have "gone wrong", but it did become a flirting session between Sharon Stone and Avengers actor Sebastian Stan. The actor, who's seemingly had a crush on Stone his entire life, decided to take the opportunity and try to shamelessly pick her up – in his native language of Romanian, no less.
James Corden was sitting there, yelling out, "You're a joke – You're ridiculous!…I love it!" At some point, Sharon also asked if Stan would bite her neck (because Dracula), and he just went for it.
Shia LaBeouf
If you thought you've seen awkward, you've seen nothing yet. Kevin McCarthy, Fox 5 entertainment reporter, was interviewing Transformers actor Shia LaBeouf on the red carpet, and those 60 seconds were so very weird.
The eccentric actor gave extremely clipped answers to McCarthy's questions, and at one moment became distracted and actually air-kissed someone behind the reporter. It went on like that until a publicist came around and shut down the interview, saving us all from further awkwardness.
Mark Wahlberg
Talk-show hosts really shouldn't allow their guests to drink backstage, and Mark Wahlberg is a perfect example of why they shouldn't. A 2013 interview on The Graham Norton Show featured Sarah Silverman, Michael Fassbender, and a pretty drunk Wahlberg.
Not only was his speech slurred, and he talked over the other two guests. He also climbed into Graham Norton's lap, and stroked his chest, almost giving him a "purple nurple". The audience seemed to get a kick out of it, though, and so did Silverman.
Leslie Mann and Dakota Johnson
It got pretty weird when Dakota Johnson and Leslie Mann pretty much objectified their male interviewer for How to be Single. The actresses, who seemed to be a bit drunk, referred to him as "hot guy", and even asked him to take off his clothes.
They had him rehearsing pickup lines, and the whole shebang. Don't get us wrong, this guy seemed to thoroughly enjoy the attention he got, but he didn't get much interviewing done.
Kourtney Kardashian
In an interview for Australian television, Kourtney Kardashian was asked about her sister Kim, and how the family was coping after the Paris robbery she's been through. Kourtney then just froze, stared into the screen.
The hosts weren't sure if they had just lost connection or she was completely ignoring the question. But as you could see her eyes blinking, it's more likely she didn't know how to answer the question. After those extremely awkward moments, she eventually did proceed to answer.
Vin Diesel
Vin Diesel and Charlize Theron locked lips in Fast & Furious 8, and according to Vin Diesel, it was the "best kiss ever." Unfortunately for Vin, Charlize may have not felt the same.
She actually said his character stood there with lips "frozen like a dead fish," and "I like a little bit more movement in my men." This quote was repeated to Vin by Ellen DeGeneres when he appeared on her show, and he was pretty shocked to hear it. He stood up shouting, "What?!" and asked the audience, "Do I look like a dead fish?" The crowd seemed to be on his side.
Robert Pattinson
Robert Pattinson became an overnight sensation when he was cast in the Twilight franchise. Everyone wanted an interview with this handsome British vampire, but they were also warned not to ask him questions about his co-star, Kristen Stewart.
The two were rumored to be dating at the time (and of course, they were), and wanted to keep their lives private. Summit Entertainment also wanted to keep it private, in case it didn't go well. But Ryan Seacrest insisted on asking the forbidden question, which is when Robert's publicist promptly ended the interview.
Bruce Willis
This poor guy came into this interview with so much enthusiasm, but Bruce Willis didn't share the same excitement. Whether he was just playing around or he was just tired of his Red 2 press tour, it seemed like Willis had it in for the interviewer.
He even told him that what they're doing isn't acting, but just selling the movie, which means the fun part is over. If that's not implying that he didn't want to be there, what is?
Lady Gaga
Lady Gaga is truly a musical icon, and we love her for everything she is. But it seems that she might need to come up with some new interview material. Recently, a compilation video was made viral, showing Gaga repeating the same line over and over in quite a few interviews.
She was thanking her A Star Is Born co-star Bradley Cooper, saying, "There can be 100 people in a room and 99 of them don't believe in you, but all it takes is one and it just changes your whole life." While the sentiment is lovely, it must have been pretty awkward for Bradley to hear her repeat it so many times.
Ariana Grande
Ariana Grande has always been about women empowerment, and she proves it time and time again. In this particular radio interview for KPWR, she was asked whether she'd rather give up using her phone, or stop wearing makeup.
She fired back and asked the host if that's what he think girls have trouble choosing between. He asked her if she could really go without her phone, and she replied "for many hours." This host didn't stop there and said, "Ladies, learn!" and Ariana snapped back, "Boys, learn!"
Cara Delevingne
When Good Day Sacramento interviewed British actress Cara Delevingne, you knew it was going to be bad right from the start, when they introduced her as "Carla."
It went along fine (if you call awkward fine), until the hosts told Cara she seemed more excited in a previous interview. She told them it wasn't the case, seemingly surprised by the rude remark. Then they said they'll let her go "take a little nap" and "maybe get a Red Bull." In her own defense, Cara said some people just don't get the British sense of humor.
Leonardo DiCaprio
In a recent interview promoting Leo's new movie Once Upon A Time In Hollywood, things got a little awkward. For some reason the interviewer was adamant to steer away from the subject of the new film, and instead discuss the infamous ending of Titanic. He asked Leo and co-stars Brad Pitt and Margot Robbie the long debated question – could Leo have fit on that door in the end?
But while Brad and Margot were amused, Leo simply said "no comment" with a tight smile. The interviewer persisted, resulting in Leo simply saying "no comment" two more times while his co-workers, noticing his discomfort, continued to tease him. It's probably a good thing they were there to help ease the tension.