If you walked down the street and asked ten strangers if they'd ever been on an airplane before, there's a high chance a huge portion of them would say yes. Still, there are people who still aren't comfortable with – or are even terrified by – the idea of flying. One such pregnant mother was lucky enough to sit next to one good soul after she missed her first flight, but what she didn't realize was just how much of an impact this person would have on her life.
Something extraordinary
This story takes us back to 2016 and involves a woman by the name of Samantha Snipes. At just 24 years old, Samantha had found herself in a situation that she had never envisaged for herself.
She felt lost, she felt confused, and she felt worthless. To try and better her life, Samantha boarded a plane from Arkansas to North Carolina in the hope of new experiences and answers to the questions that plagued her mind. These questions were soon answered, but not in the way she ever thought possible. This is how one chance encounter changed everything.
A change of direction
Three months before her chance encounter, Samantha discovered news that would change the course of her existence. She was pregnant.
Although her pregnancy was unplanned, Samantha was excited at the thought of being a mother – but she knew her situation wasn't quite right. She was in a relationship with the father of her child, but she did not feel safe with him in her life. Samantha knew that if she wanted her child to be happy and healthy, she had to leave her boyfriend once and for all…
Somewhere new
Samantha had lived with her boyfriend, but knew that she had to move out and away from him if she really wanted to start again. So, she gathered all of her belongings in the middle of the night and made her way to Arkansas to live with her mother.
She had all intentions of keeping the child and raising it on her own, but she soon had a change of heart. She began to toy with the idea of adoption because she didn't know if she could cope as a single mother. Yet, her own mother had other ideas.
A new offer
When her mother heard that Samantha wanted to give her child up for adoption, she couldn't stand by and watch it happen.
It was then that she offered to adopt her own grandchild to raise it as her own – which gave Samantha a new offer on the table. The expectant mother felt incredibly conflicted. She didn't know what to do or whether she wanted to keep her baby or not. She decided to give herself time to think about it and give herself time to breathe whilst taking part in her favorite pastime.
Turning to games
To give herself the breathing space she needed to make one of the most important decisions of her life, Samantha turned on her old computer and started playing one of her favorite online games, League of Legends.
She decided to enter multiplayer mode to play with other people across the world and talk to people she would never normally speak to, and it was here that she was first introduced to a man by the name of Tom. The pair spoke for months on end, and she soon realized that she would have to explain her predicament to him…
Coming to visit
By this point, Samantha was eight months pregnant – but Tom didn't care about that. He knew that they had a special connection, and he knew that he wanted to meet her in person.
So, he asked Samantha to visit his home in North Carolina so that they could finally see each other in the flesh. Excited, Samantha booked her ticket and soon made her way to the airport to catch her flight. However, after getting lost in the airport, she quickly realized that she had missed her boarding time completely.
A missed flight
Thankfully, Tom decided to step in and sort out the situation for the expectant mother. He booked her a new ticket on a flight later that day, which meant that she only had to wait in the airport for a couple of hours.
Although she was incredibly thankful for the man she had met online, she soon realized that her missed flight would also mean that her pre-booked seat would be meaningless. She would have to sit next to a complete stranger wherever the airline could accommodate her. Who would she have to sit next to?
Nerves kicking in
Although she had been on numerous flights before, Samantha was not entirely comfortable on an airplane – especially as she was eight months pregnant and having to sit next to a stranger for an hour.
However, she didn't have too much to worry about, and she was soon greeted by the woman she would be sharing a row with. The woman's name was Temple; a 40-something-year-old woman who was more than happy to keep Samantha calm and collected. Samantha immediately felt comfortable and even shared her story with the woman. They then shared numbers before parting ways.
A new development
Meeting Tom in the flesh was an overwhelming experience for Samantha, but it's what happened three days later that really changed her life. While still in North Carolina, Samantha felt her first contraction.
They kept coming and coming, and she had no idea what to do. Although she wanted to return home to Arkansas, Tom knew that she would have to get to a local hospital as soon as possible. He supported her the whole for the whole ordeal until she finally welcomed her son into the world.
Whirlwind of emotions
Samantha was overwhelmed to hold her baby in her arms for the first time, and the next few days passed in a blur.
It wasn't until Tom had to go back to work and she was alone for the first time with her baby that she truly realized what had happened. She was a mother, but she didn't feel like her mother. She called her mother for her support, but her mom still wanted to adopt her child. Samantha knew this wasn't what she wanted, and it was at this point that a single name popped into her head. Temple.
Finding the courage
Although Samantha and Temple had exchanged numbers, she didn't know whether she could just contact her out of the blue. However, there was something inside of her that kept drawing her to the woman she had sat next to on the airplane.
So, she found the courage and sent Temple a message, asking her if she wanted to come and visit her new baby. Temple agreed, and soon made arrangements to see Samantha and her newborn – but she had no idea that this trip would change her life forever.
A hospital visit
Just a few days later, Temple made her way to the hospital to see Samantha and her new baby. The new mother was over the moon to see such a friendly face – although they had only met each other once before.
The connection the pair had was overwhelming, and Samantha felt as though she could really trust the woman sitting in front of her. As they caught up on their lives, the new mother asked Temple if she wanted to feed her son. Hesitantly, she agreed.
A natural
Despite the fact that Temple was caught off guard, it was soon clear that she was a natural with children. She held Samantha's son like a professional, and she seemed completely at ease.
Seeing her son in Temple's arms gave Samantha an idea. She could see that Temple had a gift when it came to children, and she immediately bonded with her newborn in a way that was completely organic. Because of this, she wondered whether the woman she met on her flight might like to adopt her son…
Her story
Temple had no idea what to say. She had to take a few moments to really take in what Samantha had just asked her, and process what she had just heard. As she pondered her answer, Temple decided to share her story.
Although she had been married in the past, children just never came into their lives. It wasn't that she didn't want any, but she was skeptical. After growing up in a broken home, Temple didn't want her children to go through what she did. So, it just never happened for her.
Meant to be
In fact, Temple had considered adoption in the past. She had always wanted to add a baby into her brood but had struggled to adopt as a single individual.
It seemed as though the perfect opportunity was presenting itself, and after mulling it over and discussing the plan with Samantha, Temple eventually agreed. She was going to adopt her son! Although neither of them had known each other for very long, their chance encounter had brought something even more magical into their lives. They now had a bond that would last forever.
A helping hand
As soon as the paperwork went through, Samantha realized that she needed to call her mother to tell her the news. However, her mom made it clear that she was not happy with her decision.
She still wanted to adopt the child, and she felt betrayed that her daughter had chosen a complete stranger over her own mother. Because of this, Samantha found herself shut off from her family. Thankfully, Temple was there to lend a helping hand to aid the young woman with accommodation, money, and food.
To another level
Tom had watched the situation with Samantha and Temple unfold before his very eyes, and he couldn't believe what he had seen.
He was so impressed with the way that Samantha had handled the situation it just made him fall even deeper in love with her. Although they had only been together for a couple of months, he knew that he wanted to take their relationship to the next level. So, he asked her to move in with him, and they have been living together now for over two years.
Part of his life
Although Samantha decided to give her son up for adoption, she still wanted to be a part of his life. Thankfully, she lived just a short drive away from Temple and little Vaughn and could visit whenever she wanted.
She has since become one of the closest friends of the family and attends important events that involve her son. She goes to all of his birthday parties, and they are always going on day trips as a modern family. Samantha still has her bond with Vaughn, and she also still has her bond with Temple.
Working together
When Samantha and Temple meet up, they can't believe that their chance encounter on an airplane changed their lives in so many ways.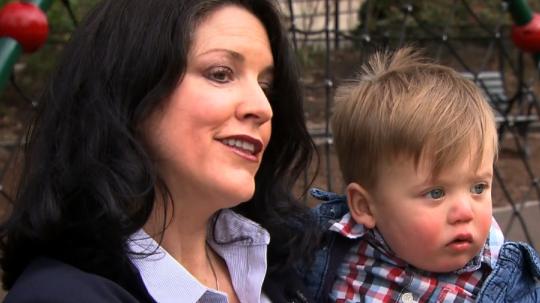 Not only has Temple gained the child she always wanted, but Samantha has gained a friend for life and the trust of a woman who will take care of her son the way that she couldn't. As if that wasn't cool enough, Samantha and Temple are now much closer than friends. They are now also work colleagues and spend a huge amount of time in each other's company.
Putting pen to paper
Because they are so overwhelmed by their own experience, Samantha and Temple have been more than happy to share their story with the rest of the world.
They have taken part in numerous television interviews, they have appeared in magazines and newspapers, and they have become local celebrities. Now, they want to take their relationship and their story to a whole new level by putting pen to paper. They want to write a book about their experiences and the fact that their destiny changed during one unplanned flight.
No regrets
Until they write their book, Samantha is quite happy to write her blog and write about her experiences with her son and Temple. Within these blogs, she makes it clear that she does not regret her decision in any way.
Although her life has been difficult in the past, she has come out the other side and formed great relationships from it. She is still a huge part of her son's life, but she knows that he is in better hands with her good friend Temple. Everything worked out in the end.