Whether you are aware of it or not, everywhere you look you will start to notice people modeling. In stores, in magazines, on billboards, in commercials, they're everywhere! It may seem a simple career to anyone on the outside, but the industry comes at a major price to the models. Saying that, many famous faces have begun as models, such as Cameron Diaz, Channing Tatum, Lindsay Lohan, and Ashton Kutcher. However, there have been plenty of stars over the years that have continued to model and made global names for themselves, including Kate Moss, Naomi Campbell, Miranda Kerr, and Tyra Banks. The fashion industry is one of the biggest money makers around the world, with its global value being over $1.2 trillion – $250 billion of which is spent in America alone. It's no wonder there are so many people trying to get into the modeling world, but there is a lot more to it than putting on an outfit and striking a few poses.
---
---
Being able to express your personality through a photo, working that perfect alluring smile, and maintaining a healthy appearance are just some of the steps these superstars have to go through when it comes to making it in this career. However, while you can probably list quite a few female models, it may be harder to think of any males in the industry. There is always one name that sticks out tough: Fabio. Just like Prince and Cher, this man is so successful he doesn't even need a surname. When it comes to trend setting and being able to take the market by storm, Fabio sure has done just those things. With his flowing locks being one of his most memorable features, Fabio truly does represent an angel sent down from above.
While we may think we know him, how much do we truly understand about the man in the photographs? Well, after his initial success began nearly four decades ago, this man has single-handedly had one of the most successful careers of any model ever. However, there is a lot more to this character than meets the eye. With his relationship status constantly at 'single' causing an abundance of women flocking to him wherever he goes, how has Fabio managed to make himself the want of so many women, and the envy of so many men over all these years? Not only that, Fabio remains one of the biggest heartthrobs with every woman to date. So what is his secret? And what's the story of the man behind the hair?
Straight into work
Fabio had barely left school when he was able to land his first job – and not just any job. Oh no, this chisel-jawed youngster with cheekbones to die for was able to secure a career as a model in the U.S. at only 19. Mere days after he stepped foot in New York the teenager had become the leading man for The Gap, a company that his face helped to launch back in the '70s. Not only did Fabio become an instant hit, but he also managed to earn quite the paycheck – $150,000 to be precise!
If you love them let them go
Ah, young romance. The whirlwind relationships, and awkward first moments. There's nothing better, right? Well, it was at 23 years old that Fabio met the woman that made him fall head over heels. At 19, Jennifer was working as a L'Oreal model when she stole his heart, but after their six year relationship, they decided to split up. Fabio admitted he was too unrestrained and too immature for a serious relationship, but has regretted the split ever since. He tried to find Jennifer many years later, but she had cut all contact with her ex, and Fabio's mom convinced him it was for the best.
Checking into reality
It may seem that Fabio has the perfect face for reality TV, but it doesn't look as though we will be seeing him on a show anytime soon. The model has spoken publicly about how he finds the whole thing degrading so won't be accepting any offers he's given. Fabio has even gone as far to say that the people signing up for these shows are after one thing: money. This isn't what Fabio is about, and apparently, no amount of money would make him change his mind.
A plain food selection
Over the years Fabio has been known to have some unusual eating habits. However, for Fabio, this wasn't for health but purely because he was always such a fussy eater. When he was growing up, Fabio's father would try and encourage him to eat new food by taking him to the best quality restaurants, but he would always stick with his favorite – olive oil and rice. At 14 he finally got the courage to try pasta topped with tomato sauce… are you sure you're really Italian, Fabio?!
Unfortunate events
Living in Los Angeles right now is a tough time for any celebrity. There have been a string of burglaries, and unfortunately, Fabio was no exception to the gang of thieves. They managed to walk away with a total of $200,000 worth of loot, including a gold coin collection and a safe that contained all Fabio's expensive watches. The LA police believe the thieves are very well organized as they have also managed to rob Yasiel Puig, Emmy Rossum, Nicki Minaj, and Jamie Presley who have all fallen victim to the gang, as well as many other celebrities.
Strong opinions on his modeling pals
The modeling world can be a very close-knit community, almost like family. But as with any family, there will always be the ones that don't get along. Over his career, Fabio has been able to brush arms with many others in the industry, including Andie Macdowell and Naomi Campbell. Fabio has been nothing but kind about Andie, even politely rejecting a friend's attempt to set the pair up on a date. Naomi? Well, not so much. Fabio cut straight to the point when it came to his opinions on the model, and he didn't hold back with his description either. Miaow.
Putting fitness to the test
The defined chest and rippling muscles didn't come overnight to this model. Oh no. In fact, Fabio has admitted that he has to workout every day to maintain his physique. There is a rigorous training regime too that includes at least one hour of weightlifting, which he then follows with a go on the stationary bike or treadmill to get in some cardio – wow! However, Fabio has a secret workout too: riding his dirt bike. The model claims you can actually lose anywhere between four and six pounds after just four hours.
Fabio's on the case
One of Fabio's many friends is Hoyt Richards, one of modeling's biggest names from the '80s and '90s. A few years ago, Hoyt somehow found himself as a member of a cult. He had given away everything he owned and was a firm believer that the world was about to end. However, Hoyt saw what he had done and asked his dear friend, Fabio, to help him get back on his feet. Fabio offered him a bed for a couple of weeks, but the pair actually ended up living together for eighteen months.
No fear of ghosties here
Fabio quickly realized how well romance books were selling when his face was plastered all over the cover. So how about if his name was there too? The model decided to pick up the pen and get to work. Well, almost. Fabio, in fact, hired a ghostwriter to help him with his new project, but it was still Fabio's face we got to see starring on the cover. The model turned author spoke about how everyone used a ghostwriter, and he was no exception to the rule.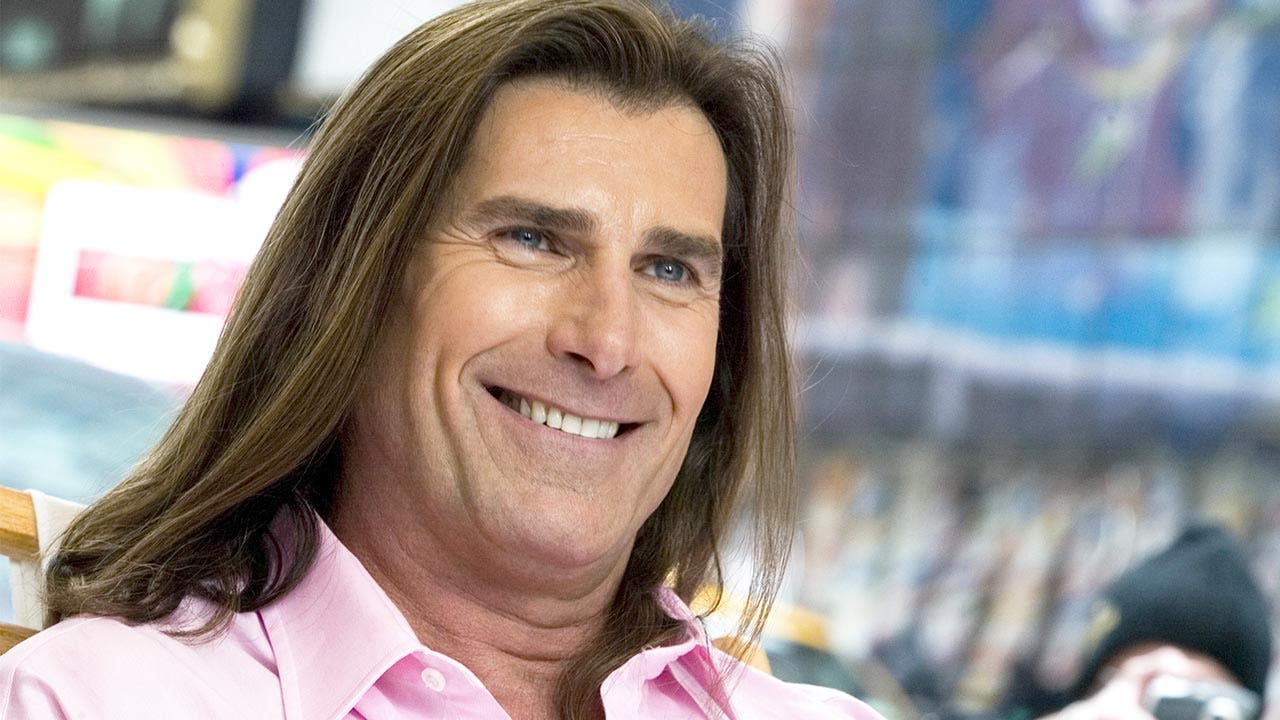 Plenty of choices
With his line of work (especially featuring on books that encourage romance), it's no wonder that Fabio has women all over the world that want a piece of the action. Even so, Fabio doesn't go for just anyone. Fabio has said how he will only go for the girls he deems to be well behaved – no rebels here then. The model has also reported how he loves to have a broader connection than just being physically attracted to the woman; he avoids mindless people at all cost.
A list of requirements
So just what does Fabio look for when he's choosing a date? Well, the model says he wants someone that that can match their personality to their looks; he can't stand people that don't have a character or rely on their looks to get them by in life. Fabio has said that he is looking for someone long term, and after time people's looks change so if there is no emotional connection the relationship won't last. On top of all this, Fabio always wants this woman to care for him, in the same wa, he will to them. Don't want a lot do you, Fabio?
Keeping his feet on the ground
With thousands of women throwing themselves at you, and being the envy of most men, it would be easy to assume that Fabio has quite the ego. However, this just isn't the case with this model. In fact, Fabio has spoken about other celebrities in Hollywood who he believes take everything far too seriously. He went on to say that if you were given a chance to be in the public eye and be blessed with riches then enjoy yourself rather than spending your time looking grumpy.
The diet of a star
Have you ever wondered what it is that Fabio actually eats? Well, get prepared for plenty of lean protein if you want to give this diet a go. Breakfast is the most important meal of the day, and Fabio chooses a portion of oatmeal, followed by an omelet using just egg whites for his. Sometimes Fabio will throw in some mushrooms, spinach, tomatoes, or asparagus to his omelet to mix it up. When lunchtime comes round the model cooks up a portion of fresh salmon, cod, or sea bass accompanied with plenty of veggies. Dinner then consists of a fish he didn't have for lunch with more fresh vegetables.
Fabio as Fabio
After Fabio decided to retire from modeling, he was left with a lot of free time on his hands, but he found just the thing to fill the void – an acting career. Even though Fabio hadn't had any practice at acting over the years, he had grown incredibly comfortable in front of the camera. The writers also helped Fabio out as they would nearly always write him to play himself. Some of his roles include appearing in a number of The Bold and Beautiful episodes, as well as a movie role for Bubble Boy in 2001 where Fabio played the leader of a cult.
More time on TV
It isn't uncommon for major brands to land a celebrity endorsement. Well, in 1994 Fabio was approached by I Can't Believe It's Not Butter to become their go-to guy. The commercials have seen some of the most iconic moments for Fabio, including when he broke out from inside a Fabio sculpture made entirely from butter! Although he took a break from the commercial world for a short time, Fabio made his return to the brand during 2016.
No social sites here
While we're lucky to receive a few likes for our posts, most celebrities are used to getting thousands. It seems as though Fabio is getting enough love in his life though, as he has no social media pages. While Fabio says that he understands why people feel the need to update their fans, he won't be making an internet presence anytime soon. Instagram is a no go, Facebook is off the cards, and don't even get him started on Twitter. Fabio is a fan of the traditional approach when it comes to contacting friends.
A man of wise words
This model has definitely done his research over the years as Fabio knows what he's talking about when it comes to life advice. He says the key to happiness is finding a person that makes you feel full of joy. Fabio went on to explain that if you can be happy with who you are, then finding someone who feels the same about themselves is the perfect match; as a couple, you can share your joy together. We think we all need to take a leaf out of Fabio's book from now on!
No sweet tooth here
While it may sound impossible, it has never been hard for Fabio to avoid sugar. When he was still a toddler, Fabio's mom gave him a sweet treat, but he instantly spat it back out. One great part of any childhood is being able to go to birthday parties, especially when it comes to cake. But for Fabio, this was a nightmare! He would always be forced into eating cake with the others when he hated the stuff – who doesn't like cake?!
Causing a ruckus
Fabio's bad-boy nature has been around ever since he was a kid. While living back in Italy, his parents were always getting calls from his school saying their son had been kicked out, in addition to having to deal with a son that went out of his way to break every rule that was set. However, there are two things Fabio steers clear from: illegal substances and alcohol. Fabio saw his friend accidentally overdose as a teenager, and since then he has remained sober as a judge.
The loss of a beloved
Sadly, Fabio had some tragic news to come to terms with during 2013. After a lengthy battle, Christina, Fabio's sister, lost her fight with ovarian cancer when she was just 48 years old. Unfortunately, Fabio wasn't able to mourn in peace as many people had opinions on Christina's choice of treatment. She had booked herself into the Burzynski Clinic, the controversial alternative treatment therapy center that provides procedures yet to be FDA approved. Regardless of the backlash, Fabio says the clinic got Christina from being bedridden to being able to use a treadmill within mere weeks.
Where is he now?
Even though Fabio hung up his modeling career during the 1990s, he continues to make public appearances. The former model still appears in commercials alongside an occasional movie role. His latest acting work has been for the newest Sharknado movie, Sharknado 5, where he plays The Pope. Even though his career has slowed down a lot since his heydays, Fabio continues to stick to his insane diet and workout regime to keep his physique. Of course, there is still time for hair care too as his luscious locks are just as flowing as ever.
Rolling in it
Fabio managed to create a two decade career that saw him become the most famous male model from around the globe. All his hard work over the years saw Fabio bring in some big bucks which have yet to wear off. His net worth remains at a staggering $15 million which isn't bad for someone approaching his 60s. While he could happily retire and live out the rest of his life in luxury, it seems as though the exploration in life still isn't complete; Fabio currently has no one to enjoy his wealth with.
The famous locks
When picturing Fabio, one of the first things that spring to mind is his flowing mane of hair. When he first took the world by storm for Gap, he had yet to grow out the locks. However, ever since then Fabio decided that long hair was the way forward in life – a decision that has caused many women to swoon over the years. It doesn't look as though Fabio has any intention of ditching the 'do either. Like they say, if it ain't broke don't fix it, and all that.
Keeping the mane tame
Apparently, Fabio has a strict set of rules that has kept his hair staying so luxurious all these years. But what are the secrets to having such luscious locks? Well, firstly Fabio says his diet has a lot to do with its strength and volume. There are rules when it comes to products, too. Shampoo must not contain any unnatural chemicals, and conditioner is banned from the bathroom. Finally, there isn't a blowdryer in sight as Fabio lets it all dry naturally instead. So food, good products, and no blowdryers – got it.
Food fight
It wouldn't be a surprise to hear that there was some competition going on between the male heartthrobs of the world. However, it wasn't looks that caused Fabio and George Clooney to butt heads in 2007. Both men were dining at the same restaurant in Beverly Hills when George accused Fabio of photographing him and his partner. Fabio declared they were taking photos of the people on the table, and even offered to give George a lesson in manners – how kind of him!
Declaring his love
There has been one romance over Fabio's life that has been more apparent than any others. But who is the lucky lady? Well, that would be America. During March 2016 Fabio was finally able to become a U.S. citizen. He was joined by 6,000 other individuals from over 140 different countries to take the oath. Fabio confessed he had fallen in love with the country at 14 years old and would do anything for America which he would never have done for Italy.
A true American
Fabio compared the ceremony to marriage as he was finally able to declare his true undying love. The big day came just one day after he celebrated his 57th birthday, and Fabio confessed that it was the best present he had ever received. Fabio fell in love with the States ever since he first set foot in the country all those years ago; stepping out the plane felt like coming home for the first time in his life.
A role in office
The day Fabio was officially welcomed as a citizen of America was the day he became entitled to every right all other citizens have, including the chance to run for his local town's office. Fabio has always been known to be a people person and has even commented on how perhaps one day he will try and get himself to a position he can listen to the people and give them what they all want. Maybe Arnie won't be the only European governor?
Net Worth
Fabio is worth an astounding $15 million. The astounding Italian made the majority of his wealth through his different ventures, including, amongst other things, modelling for clothing companies as well as romance novel covers. In fact, Fabio gets a $150,000 paycheck for each cover he appears on, and keep in mind, he's appeared on over 400 of them! This is on top of all of the movie cameos he's done throughout his life. Not bad!
What's ruining California?
Fabio became a United States citizen back in 2016, and since then, he has been coming out and letting his political opinions be heard. He made the claim that the State of California was being ruined by Governor Jerry Brown and his Proposition 57 which lets non-violent criminals out of jail during in interview on Fox News with Tucker Carlson. Fabio says that this "liberalism" is destroying California, and that he watched the same thing happen in Europe.
Tough on crime
During the same interview, Fabio continued on his tirade against crime and how there needs to be strict measures to defend the population and to keep offenders off the streets. He began speaking about Murphy's law, and saying that the "three strikes and you're out" policy was a great system. Fabio went on to say that now since Murphey's law has been appealed, people are going back and forth to jail 13 times!
A big guy
Just in case you never noticed, Fabio is a pretty big guy. In fact, he is so big that he regularly has trouble finding clothes that fit his large, muscular, hunky frame. For instance, the average shirt is 40 inches across the chest, but Fabio's chest is a massive 56 inches across! This is one of the reasons that he is depicted with his shirt open so often – shirts are just too small for him.
The method
Fabio is extremely well known for being a model for adult romance novels, and one of the reasons for this is because he just seems to be so natural and seductive. He says that the way he's able to give such a seductive look is because he puts himself in that mindset. Fabio claims that if you want to give a really seductive look, you should actually trying to be seductive. That way, you are captured as you naturally are.
Given to him
Fabio knows how lucky he has been in his success, and he acknowledges that he did not have to work so hard to get to where he is today. In fact, in an interview with the British newspaper The Guardian, Fabio said that his entire career was basically given to him on a silver platter. After all, as he says, he spends most of his days playing sports or working out in the gym. He says he is truly blessed.
A religious man
Fabio really believes in the value and the power of prayer, and says that it is the main way that he has gotten so far in life. He says that if you want it then you need to pray for it, but you have to make sure you are praying for something really, really specific. For instance, if you want a new car, you must specify everything from the make and model to the color. According to him, God is in the details, and He will make sure you get what you desire.
No Mexico
Fabio looks like he would be the perfect person to play Tarzan in the 1990s. However, on the most recent Tarzan remake, Fabio was in fact asked to play the world famous character. However, Fabio turned down the role. Why you may ask? Because it would have involved him moving down to Mexico in order to film for, as he says, "a couple of years." Apparently, there is not "enough money in the world" that can be offered to make him do that.
Striving to be happy
One of the reasons that Fabio seems to be so successful is due to the fact that he tries to do one thing in his life – be happy. Yes, while material possessions and wealth are nice, Fabio believes that if you are not truly happy and fulfilled, then it does not matter how much money you have. Fabio says that he has never sold his soul for a quick buck, and says that California is full of people who do just that.
A private person
As it turns out, Fabio does not do social media. He has no Facebook, no Instagram (which is like a fish not having water), and no Twitter. He says that he would prefer to keep his life private, and that he believes that posting so much all the time on social media platforms detracts from the beauty and majesty that is life. We've all asked the question – if you didn't post about it, did it really happen? For Fabio at least, the answer is yes.
A pact with God… and the gym
There are a lot of people who claim that Fabio's great looks and the fact that he never seems to age are proof that he has sold his soul to the Devil. However, Fabio says that if anything, he has sold his soul to God. He says that his strict workout regimen is the reason why he is so fit along with the fact that he has miles of tough hiking trails on his property. He also does endurance motocross, causing Fabio to lose up to four pounds at a time.
Respected
One of the reasons that Fabio is so famous and keeps getting booked on gigs is because of the fact that, according to him, people respect him. He has never sold out, and he only does work that he enjoys, making him a pleasure to work with. People know that he will not degrade himself for a couple (thousand) dollars, and that he holds himself to a high standard.