Making a movie isn't an easy job. There's so much work to be put into the script; finding the locations, casting the right actors, visual effects, editing, and many other tasks are required to make a film. But some filmmakers are so good, they go the extra mile to pay attention to every single little detail in the movie they're making.
Sometimes it's the little details that give us a new perspective on things. A small detail can build a character, give you a sneak peek into making the film, wink at the viewers, or even provide a whole new meaning to the story. These details could easily have gone unnoticed by most viewers, but some people with a great eye for detail managed to catch some hidden moments or easter eggs planted by the filmmakers. This attention to detail is what makes a good movie great, because it shows just how much thought was put into the entire process of making the film.
Of course, these details made it online for everyone to enjoy. And we decided to bring you some of the most interesting, game-changing, and surprising details you might have missed while watching these movies for the first time. Some of them will make you laugh, and some might just blow your mind.
Spider-Man: Homecoming
Everyone was excited to see Zendaya's role in the new Spider-Man: Homecoming film, starring Tom Holland as Spider-Man. It was pretty great to see her play Michelle (which could possibly be the new MJ), but there was one little detail that escaped many viewer's attention.
At one point, Michelle was reading a book called "Of Human Bondage", which is actually a story about an orphaned boy who lived with his aunt and uncle. Sound familiar?
Avengers: Age Of Ultron
Even the most loyal fans of the Marvel Cinematic Universe failed to notice this little, but significant detail. In Thor: The Dark World, Loki supposedly dies – or rather fakes his own death. But his brother, Thor (admittedly, not really his brother), thinking he was dead, took a strand of Loki's hair and braided it in his own hair.
This simple gesture speaks volumes, and is actually really sweet. Luckily, Loki wasn't actually dead – and we mean luckily for Marvel, because he's kind of a fan favorite.
Back to the Future
Now this is what we call attention to detail. In Back to the Future, when Marty McFly travels back in time to 1955, he accidentally runs over one of the pines behind The Twin Pines Mall.
Viewers with a good eye for details noticed that when he goes back to the future, the name of the mall had been changed to Lone Pine Mall – since there's only one pine instead of two. It's both clever, and hilarious.
Spider-Man 2
In Spider-Man 2, Peter has some major trouble with his powers, as he seems to lose them at very crucial and life threatening situations. This is mainly due to his personal struggle to balance his work-life as Spider-Man, and his personal life.
Trying to regain his powers, Peter states that he needs a "strong focus" before attempting to use his spider-webs, and jumps off a building. He then proceeds to land on a Ford Focus, which isn't damaged at all by this. Seems like strong Focus to us!
The Matrix
If you've seen The Matrix (and if you haven't, you definitely should), you're probably familiar with this shot of Morpheus and Neo standing in front of The Oracle's place. "I can only show you to the door," Morpheus says, and Neo reaches for the door knob to open it. 
However, the cameramen couldn't quite hide the camera in this cool reflection shot, so they actually put a coat over the camera, along with a tie that matches perfectly with the one Morpheus is wearing.
Fargo
Fargo is a classic crime film released in 1996, starring the talented William H. Macy. In the film, Carl Showalter threatens Jerry's life as well as his family, and tells him to bring money to a parking garage of a hotel – within 30 minutes.
"In 30 minutes, Jerry, we wrap this thing up," he says. The clever thing about it? He says it right when there's exactly 30 minutes left to the movie's running time.
John Wick
John Wick is a pretty solid action film starring Keanu Reeves. While its sequel was released three years later, the movies are supposed to be set only four days apart. Most viewers didn't notice, but the filmmakers actually paid great attention to detail regarding this fact.
If you take a look, you'll notice all of the cars parked outside The Continental Hotel are still parked there for the sequel. It may not look like much, but it shows a great deal of thought was put into making these films.
Harry Potter
One of the most debated issues in Harry Potter was the question of "who's side is Snape on?" Snape, played by the late and wonderful Alan Rickman, seemed to be doing everything he can against Harry, but Dumbledore trusted him. He turned out to be one of the good guys, who was working for Dumbledore.
And if you wanted a hint to that, you could see Snape noticing Harry's scar bothering him in Harry Potter and the Sorcerer's Stone, and immediately looks suspiciously at Professor Quirrell (whose body had been taken over by Voldemort).
Guardians of the Galaxy
This detail isn't only incredibly cool, but it also explains a very important issue in the Marvel Cinematic Universe. In Guardians of the Galaxy, Peter Quill's enhancements are listed on a screen. If you take a look up close, you'll see that "Translator Implant" is one of these enhancements.
This little nugget actually provides an explanation on how Marvel characters all seem to be speaking English in space – something that's left unexplained in many movies and TV shows that take place in space.
Kingsman
Kingsman is perhaps the greatest spy movie franchise since James Bond – one that's filled with action as it is with British humor. In the film, the titular secret spy agency has a huge hangar with dozens of cars and planes, but there's one particular item that has given a good laugh to those who noticed it.
The hangar holds a yellow submarine – just like the song of the most iconic British band in history, The Beatles.
Titanic
Arguably the most emotional movie of the '90s (or ever), Titanic is directed by James Cameron and stars Kate Winslet and Leonardo DiCaprio. The movie told the epic and tragic story of the Titanic, which sank in 1912, to great detail.
After over three hours of the heart-wrenching story, the movie wraps up by revisiting the people Rose met on board, while the clock behind Jack shows the hour 2:20 – the exact hour the real Titanic sank.
Captain America: The Winter Soldier
Samuel L. Jackson plays Nick Fury in the Marvel Cinematic Universe, but long before that, he played a mob hitman named Jules Winnfield in the cult Tarantino film, Pulp Fiction.
In Captain America: The Winter Soldier, the shot of Nick Fury's tombstone reveals a quote from Ezekiel 25:17 – "The path of the righteous man…". Pulp Fiction fans would immediately recognize this is the same quote Jules famously cites right before offing a bunch of people.
Evan Almighty
Bruce Almighty was a hilarious comedy starring Jim Carrey, and the sequel was equally funny. In Evan Almighty, God (in the image of Morgan Freeman) reveals himself to Evan and asks him to build an arc, just like Noah.
His wife, who fears he's gone crazy, takes the kids away, when she meets God, pretending to be a simple cleaning man. If you look closely at his name tag, you'll notice his name is Al Mighty – as in God Almighty.
Toy Story
Pixar are pretty well known for their easter eggs, and Pixar fans love to come up with "conspiracy theories" regarding different movies being linked together. One detail some fans noticed in Toy Story 3, is that the garbage man had the exact same T-shirt worn by Sid.
You might remember Sid as the mean little kid from the original Toy Story movie, who likes to abuse toys as a pastime – and apparently, he ended up as a garbage man. We wonder if that has anything to do with Karma…
Silence of the Lambs
This little detail from Silence of the Lambs completely went over some of its viewers' heads. The movie revolves around the terrifying serial killer and cannibal Hannibal Lecter, and FBI agent Clarice Starling, who tries to recruit his help with a new case.
As Hannibal tells Clarice about a certain meal he's had (and we shan't go into detail), he tells her he ate fava beans and "a nice Chianti." Both of these are known to interfere with MAOI-type medication, so basically – he was off his meds.
The Shawshank Redemption
One movie that has taken attention to detail even a step further, is The Shawshank Redemption – the prison escape film based on the Stephen King novella. Red, played by Morgan Freeman is one of the prisoners in Shawshank, who's been incarcerated for over 20 years.
In the film, we take a look at his mugshot, in which he's 20 years old, and as the filmmakers wanted it to look as authentic as possible, they actually photographed Freeman's son, Alfonso. Pretty cool, isn't it?
Zootopia
Zootopia was one of the most adorable animated films ever, about a rabbit called Judy Hopps who joins the police force and makes it despite all odds. It's filled with jokes and funny moments (like that amazing sloth scene), but it also has some incredibly funny little details that we just love.
For example, on Judy's playlist you can find all sorts of familiar music artists like the "Fur Fighters", "Hyena Gomez", and "Kanine West".
Fight Club
Other than being a pretty awesome cult classic, Fight Club is also criticism on the exaggerated consumer culture and how it's taking over our lives. And what better way is there to showcase it, then have a Starbucks coffee cup in every single scene in the movie?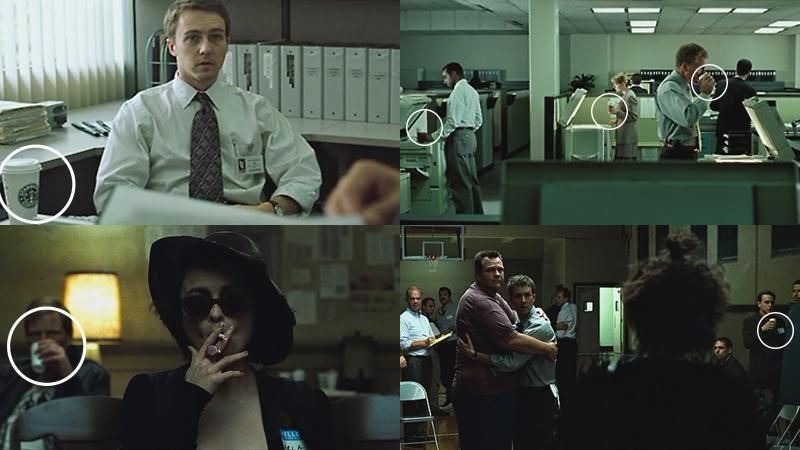 There are actually websites where you can find every one of the cups in the movie. It's not easy to notice, but once you do – you'll be wondering how you haven't noticed it so far.
The Hunger Games
The Hunger Games franchise depicts a dark dystopian future in which people are forced to participate in a cruel last-man-standing type reality show. Inevitably, a revolution begins to arise in the form of The Mockingjay, and its salute involves holding three fingers up and whistling a certain tune.
Many people think that in this scene, where Katniss and Peeta are dancing, three of Peeta's fingernails are painted black because he was silently giving his salute.
Inglourious Basterds
Inglourious Basterds is undoubtedly one of Quentin Tarantino's most brilliant movies. The film revolves around Shosanna Dreyfus, who manages to seize the perfect opportunity for revenge during World War II.
Hans Lander is a commander in charge of tracking down Jewish people hiding out, and catches Shosanna's entire family in hiding. But did you ever notice that while he's visiting the home where they're hiding, he's checking the woman's pulse, to see if she's telling the truth or hiding something?
I Am Legend
Some people who noticed this little detail in the horror flick I Am Legend, were pretty baffled as to how it found its way into the movie. The movie's set in 2010, and you can clearly see an advertisement for… Batman vs. Superman.
Since DC's Batman v Superman only came out in 2016, people thought I Am Legend predicted the future. But actually, the writer and producer of I Am Legend, Akiva Goldsman, wrote an early draft for the Batman and Superman flick – which ended up getting dropped for The Dark Knight trilogy.
It
The remake of Stephen King's story "It", about the world's most terrifying clown, proves that he's truly a mastermind of horror. In the film, one of the kids – namely, Stanley – is told off by his father for not caring enough about his Torah studies.
And we have to say he may have had a point there, because in this scene of Stanley supposedly studying, he's holding The Hebrew Bible upside down. If this was done on purpose, it's pretty hilarious.
Interstellar
CGI (or computer generated imagery) is used in many films today, but it doesn't always look very authentic. That's why before shooting Interstellar, director Christopher Nolan decided to plant 500 acres of corn to avoid having to use CGI to create a farm.
Not only did it look better in the movie, but after filming ended, Nolan actually sold that corn he planted and made back profit off of it! That's a great way of increasing a movie's budget, isn't it?
Fantastic Beasts: The Crimes of Grindelwald
The Harry Potter franchise is one that keeps on giving, especially since it birthed a new franchise – Fantastic Beasts. The first movie in the series was pretty incredible, and Harry Potter fans are long anticipating the second film titled The Crimes Of Grindelwald, which comes out this November.
And fans with a good eye for details noticed the poster itself contained an interesting little tidbit – some of the letters are made of the Deathly Hallows, which implies the plot will revolve around them.
Passengers
Some Stanley Kubrick fans might have noticed some easter eggs referring to The Shining in the film Passengers. Director Morten Tyldum is apparently a huge Kubrick fan himself, and he made sure to make that noticeable in his set design.
For instance, you may notice the robot-bartender is dressed the same as the bartender from The Shining. The carpet in the ship's bar is also very similar to the hallway carpet in the Overlook Hotel.
Jurassic World
In the beginning of the film, it's shown that the T-Rex is flare trained, which means it's trained to follow a flare in order to receive food. At some point of the movie, Bryce Dallas Howard's character, Claire, lights up a flare and seemingly runs away from the T-Rex.
But the T-Rex is actually following the flare, and not chasing her. This explains how she's able to "outrun" a dinosaur while wearing those controversial high heels.
Titanic / Frozen
This probably isn't an easter egg, but just a happy coincidence, but it still went unnoticed by many people. In Titanic, Jack plays poker against some people, which is how he wins the tickets to go on the ship (if only he had a worse hand!).
And those guys' names? Olaf and Sven – just like the lovable characters from the Disney animation Frozen. We imagine Olaf and Sven are pretty popular Nordic names, but it's still a pretty hilarious coincidence.
The Departed
If you haven't seen The Departed yet, note this is a major spoiler. In the film, you might notice some form of X in the background, which foreshadows the deaths of characters. So every character that has an X somewhere around it, is pretty much doomed.
Granted, we didn't really need an X to tell us the guy falling off a building was going to die, but the others are pretty neat. This also might be an homage to the X motif from the original Scarface from 1932.
The Conjuring 2
The Conjuring is one of the best horror franchises as of yet, and The Conjuring 2 is pretty darn great. If you've seen the film, you know that the demon which terrorizes the family is named Valak.
And apparently, there are quite a few nods towards his name in the movie. One of these nods is when Lorraine Warren (played by Vera Farmiga) is sitting in her living room, reading. You may notice the book holders behind her spell "Valak."
Iron Man 2
The Marvel Cinematic Universe is pretty amazing, and it's mostly thanks to how well all the different characters and movies are woven together, and this easter egg is a perfect example of that. In this Iron Man 2 post-credits scene (which probably every Marvel fan knows to wait for), there are several locations marked on the S.H.I.E.L.D map behind Tony Stark.
These locations are actually where several Marvel movie take place – like Thor (New Mexico), Captain America (Antarctica), and even Black Panther (Wakanda).
The Princess Bride
The Princess Bride is also a classic, and many people would say it's one of the best movies of all time. And it also gave us Mandy Patinkin's incredibly memorable quote – "Hello. My name is Inigo Montoya. You killed my father. Prepare to die."
In the DVD of the 20th Anniversary, the image has been made so you could look at it both ways – either right side up, or upside down. Pretty cool, isn't it?
Die Hard
The late Alan Rickman was a wonderful actor, but some Harry Potter fans might be too young to remember he actually played the bad guy in the Bruce Willis action film, Die Hard. When Hans Gruber is shot and falls out of the window, the look of surprise on his face is priceless.
What some people don't know is that look is actually genuine surprise. The stunt team told Rickman they were going to drop him down after counting to three, but then dropped him at one.
Star Trek (2009)
Many sci-fi movies use regular things and make it look like futuristic technology, but it's pretty funny when you think about it. One classic example of that is when the new Star Trek film, which came out in 2009, used a Dyson hand dryer – one you could probably find in many public restrooms – to appear as spacey technology on the Enterprise.
We wonder what they meant it to be used for – perhaps identification? Or maybe just sanitizing one's hands?
Captain Marvel
If you've seen Captain Marvel (and if you haven't, you really should), you couldn't miss the late Stan Lee in his cameo, filmed prior to his passing away. It was indeed a touching moment, but did you notice the reference he made in it? In the cameo, Stan is reading from a screenplay and getting ready for a cameo.
This cameo was for a Kevin Smith movie, Mallrats, which came out in 1995 – an actual cameo that Stan Lee did back in the day. The timeline matches the one in Captain Marvel, and even Kevin Smith was incredibly moved by this gesture.
Baby Driver
Baby Driver was a cool movie with some great, great tunes, and witty lines. But did you notice some lines seemed pretty familiar? At one point, Baby flips through some channels and watches some (quality) content on television.
Later on, he repeats the exact dialogue lines he previously heard while watching TV, like "You and I are a team." That's one way of trolling people, if you ask us, but it's pretty funny watching it on screen.
Get Out
Arguably one of the best horror movies of the past few years would be Jordan Peele's Get Out, about a young man who travels with his girlfriend to meet her parents. He then discovers that they're actually trying to steal his body using hypnosis, triggered by the sound of a spoon hitting glass.
In the film, Missy accidentally hits a spoon against glass, which causes the hypnosis to temporarily break – which makes Georgina spill the iced tea she's holding.
Iron Man 2 / Spider-Man: Homecoming
The MCU is filled with little easter eggs and hidden facts for fans to track down. But not all fans noticed that there was a fun connection between Iron Man 2 and Spider-Man: Homecoming starring Tom Holland.
In Iron Man 2, Tony Stark saves a little boy in an Iron Man mask. This little boy actually grows up to be none other than Spider-Man, whom Tony takes under his wing. Both Kevin Feige and Tom Holland have confirmed this fact.
Captain Marvel #2
Captain Marvel is set in the '90s, a time when many magical things existed – such as the Spice Girls, and Blockbuster, which sadly only has one store left. Careful – spoilers ahead: the superhero crashes in the beginning of the film into a Blockbuster on earth.
But what most viewers don't know is, the store that appeared in the movie is the actual last Blockbuster store in the U.S. Another lovely gesture in the Captain Marvel film!