It doesn't matter how much time passes, Harry and Meghan fever will never be over. That's probably because every time we think the couple can no longer surprise us, they do something to prove us wrong. From announcing their pregnancy to revealing where they're moving to, the pair knows precisely how to get the world talking about them. With that in mind, it shouldn't be a surprise that they've once again grabbed our attention with another unexpected discovery.
After months of debate, Harry and Meghan have finally offered us a sneak peek of their vacation spot in the Cotswolds. The public was aware that the royal couple had set themselves up somewhere in the Oxfordshire countryside, but details of the exact location were sparse. We had no idea where the pair were going whenever they disappeared for time away from the spotlight… until now. Thanks to new information, we can finally see how the other half spends their spare time and continue to live in perpetual jealousy of their inspiring lifestyle. We wish we had a vacation home like this!
Everyone wants to know
As the interest grows in Duchess Meghan, the people supporting her have become desperate to know as much about her life as possible. That's easier said than done when the person you want to learn more about is part of the Royal Family. The monarchy is renowned for being tight-lipped on anything they don't feel like sharing, and the newlyweds aren't keen on spilling details of their personal lives.
Considering they spend so much time being scrutinized in the public eye, we can't blame Harry and Meghan for wanting some privacy. However, that doesn't stop us being curious about their lives away from the cameras. One thing that's attracted a lot of the attention over the last year is the couple's various residences. The details released to the press aren't usually very informative, though recently, pictures of their new countryside home have surfaced.
In need of a new residence
Talk about where the couple lives has been ongoing since the moment they got engaged. With marriage comes the need to move in together, so after Harry got down on one knee, people wondered if the pair would remain at his property on the Kensington Palace grounds. He'd taken up residence in Nottingham Cottage before Meghan was even in his life, but it's not the most suitable place to raise a family.
With only a few bedrooms, the duo would be fairly restricted when it came to having children. However, despite its small size, the couple did make it their temporary home after their wedding in May 2018. There wasn't a baby on the way at that point, meaning there was no rush to go somewhere bigger. That didn't mean Harry and Meghan weren't looking to move out and live in a house with more breathing room, though – and a countryside home would be perfect for that.
Settling the rumors
Rumors regarding the couple's new home were rife in the months following the wedding. It was speculated that Harry and Meghan would be moving to Apartment 1, a short walk from their current residence in Kensington Palace. With nearly two dozen bedrooms on offer, they wouldn't have faced any restrictions when it came to childbirth. What's more, the residence was right next door to William and Kate's own home, meaning interacting with each other away from the cameras would have been easy for the foursome.
Unfortunately, that might be what stopped them from moving into Apartment 1. Despite consistent reports that the place was theirs and the move was imminent, the couple shocked us in November 2018 with a big revelation. It was announced that they'd found their new home and it was nowhere near Kensington Palace. Was this really Kate's doing?
Can't get enough
Love her or hate her, you can't deny that Meghan Markle is the woman of the moment. She's a breath of fresh air in a monarchy once tied down by ancient rules and traditions. She might cause her fair share of controversy, but what royal is perfect? Even with the talk of her feud with Kate, the Duchess of Sussex continues to attract love and adoration from millions of people all around the world.
And, of course, people are thirsty for details about the possible rift between the two Duchesses. Maybe it's the fact that it makes them a bit more down-to-earth and less perfect, that makes fans of the Royal Family eager to know whether it has similar problems such as every other family.
An unexpected choice
It's entirely possible that the couple had always had their sights set on a property outside of Kensington Palace. However, with all the reports of a feud between Meghan and Kate, it seems highly coincidental that the couple would do a complete u-turn when their move appeared certain. Nevertheless, they decided against Apartment 1 and instead turned to a house in Windsor. Frogmore Cottage, a quaint, secluded property on the Queen's royal grounds, is set to become their home in 2019.
Renovation work is still underway, with the couple hopeful it'll be completed before their baby arrives in the spring. Although it's nowhere near as big as Apartment 1, it offers plenty of expansion options for the duo once they start growing their little family. We're sure the pair can't wait to move in and make it their own.
Humble beginnings
The choice of Frogmore Cottage was surprising considering it was once used as staff accommodation for the people working at Windsor cottage. You'd think that Harry and Meghan would opt for something a little more regal, but then they're a lot more down to earth than your typical royals.
The Duchess of Sussex hasn't come from a privileged background like her new in-laws, so she probably doesn't have as high an expectation. Plus, the view from Frogmore Cottage is one that holds a special place in Meghan's heart.
Making memories
Frogmore House is where one of Harry and Meghan's wedding receptions was held. It's located at Windsor Castle and the vast property can be seen from the window of the couple's new home. That day in May is one that neither will ever forget, so having a reminder of it that close to their permanent residence may well have been a selling point for the pair.
No matter what it was that convinced them to choose Frogmore Cottage, we expect they'll make many happy memories there. Of course, it's not the only option for places in which they have to live in.
Out in the countryside
It wasn't long after the couple got engaged that news emerged about the pair renting a property somewhere in the Cotswolds. A popular destination with celebrities, their choice in location wasn't a huge surprise.
However, details about Harry and Meghan's new vacation spot were hard to find. All we knew was that they'd gotten a two-year lease shortly before getting married, and that wasn't much to go on. Now that a picture of the property has been released, though, the pieces are all finally starting to fit together.
Home away from home
Since getting a lease on the house, Harry and Meghan have already made great use of the property. It helps that they prefer the spot much more than Nottingham Cottage over at Kensington Palace, with the pair seeing it as a lot homelier.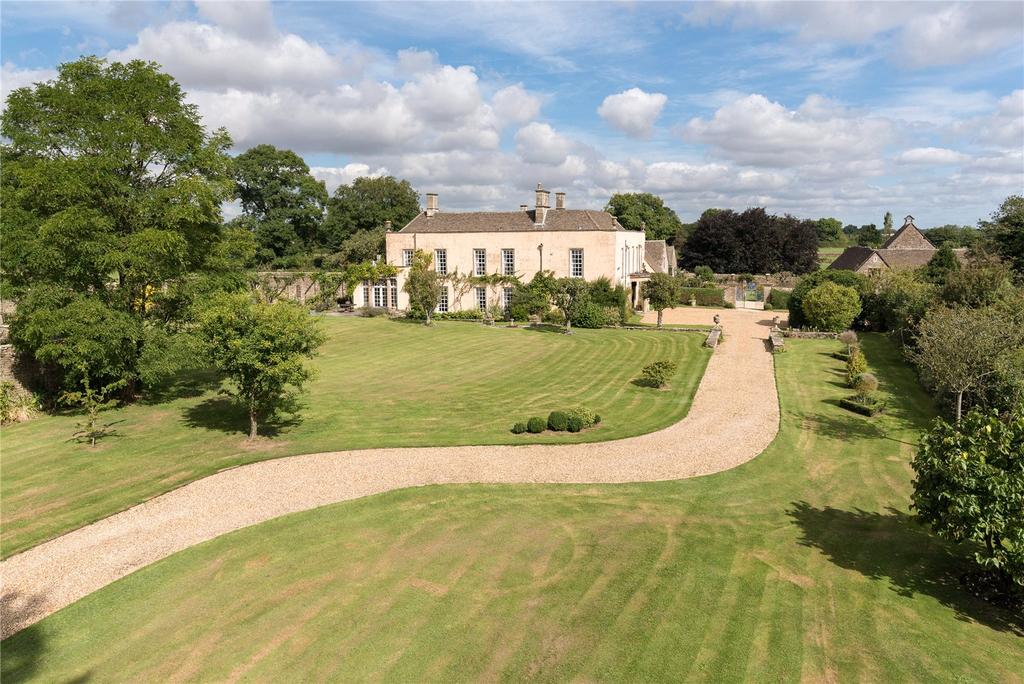 Although they can't spend all their time in the Cotswolds, the duo is making the most of every moment they have there. With Meghan resting because of her pregnancy, and Frogmore Cottage still under renovation, we reckon they'll be staying here a lot the next few months.
Going on vacation
When you're part of the Royal Family, it's basically an unwritten rule that you need to own more than one property. You've got to have some choice when you're part of the British elite. William and Kate have Anmer Hall in Norfolk for when they feel like getting away from Kensington Palace, though that isn't often.
When you're set to be king one day, you find that free time is a lot scarcer than you'd like. So it seems that Harry and Meghan have now followed suit with their own vacation spot too, with this countryside getaway.
Having people over
Aside from being comfortable and homely, the Cotswolds property also has the advantage of being near their friends. People like David and Victoria Beckham have homes in the area, meaning it's easy for them all to meet up away from the paparazzi.
Guests to the couple's Oxfordshire home have included George and Amal Clooney, Nick Jonas and Priyanka Chopra, and Serena Williams and Alexis Ohanian. Harry and Meghan must really love throwing dinner parties. The Duchess of Sussex's mother has apparently also been a regular at the house.
A spacious retreat
Meghan and Harry's rented home in the Cotswolds consist of two buildings, the bigger of which acts as the main house. It used to be a barn but has since been converted into a four-bed property with many amenities for the newlyweds.
There will be plenty of space to move around once the baby comes along, with large dining and living areas making up the lower half of the house. Although they've only got it leased for two years, we can see the couple wanting to stay here longer.
Somewhere to stay
The smaller of the property's two buildings is reserved for Harry and Meghan's staff. The pair can't be expected to do everything themselves, so they have a small team on hand to help out with things like cooking and cleaning.
The outhouse features two bedrooms and is also utilized by guests whenever the couple has people hoping to stay the night. Although this building isn't the biggest, we're sure it's still pretty comfortable. Harry and Meghan don't strike us as people who like to disappoint their guests.
One with nature
One of the most attractive aspects of the Cotswolds property is the views. Set in the Oxfordshire countryside, there are hills and fields stretching for miles. Being surrounded by so much nature suits Meghan to a tee because it gives her plenty of space to walk her dogs.
The house is so detached from the outside world that it's easy for her and Harry to go out with their pet pooches without being spotted. That's a rare luxury when you're a member of the Royal Family.
A special connection
Much like Frogmore Cottage, this house in the Cotswolds brings back memories of the couple's wedding. At least, it does for Meghan. That's because it's located near Soho Farmhouse where the Duchess of Sussex is believed to have held her bachelorette party.
While she might not be able to see it from her window like the cottage in Windsor, knowing it's nearby is probably still a comfort. We've no idea what she got up to at her bachelorette party, but we reckon it's something worth remembering.
Taking it easy
With the couple not making any travel plans until after their baby is born, Harry and Meghan will likely have plenty of time now to enjoy their Cotswolds retreat.
Soon enough, the Duchess of Sussex will have to put her royal duties on hold as the pregnancy nears its end, so time away in Oxfordshire will be much appreciated. She needs to take it easy to avoid putting any unwanted stress on the little one, so an extended vacation sounds like a great idea. Who would say no to that?
Renting vs. buying
Most people already know that the Royal Family is not exactly lacking money. That's why it's a little surprising that the happy couple did not just buy the property. Instead, they decided to rent the country house.
They did take out a two-year lease, which is a long time, as many rental contracts are only two years. So it does seem that Harry and Meghan want to stay for a while, but we wonder why they didn't just purchase the property if they loved it so much.
Plenty of land
Regardless of if they choose to buy the estate after their two-year lease is up, or if they decide to just extend it for a longer period of time, one thing is certain, they have plenty of space to relax there.
We can definitely understand why they jumped at the opportunity when they found this property because it is quite large and beautiful. They can definitely get their privacy with four acres of rolling countryside land surrounding their 4,000-square-foot house.
Two kitchens
While we know that some of their Royal staff stay on the property with them in the guest house, we can't help but wonder if Meghan and Harry do some things themselves, such as cooking.
They do have two kitchens in the home after all. Maybe after taking a stroll through the country hills with the dogs, the two enjoy cooking a nice meal together and enjoying it in the privacy of their vacation residence.
Quite pricey
As we mentioned, the members of the Royal Family are pretty wealthy people. That being said, this home is worth just over $3 million.
Perhaps the reason they chose to rent the property in the Cotswolds is because they didn't want to drop that much money on a house that will only be used for vacations and not as their full-time residence. That being said, if the place is that pricey, it makes us wonder how much rent is.
Few details
Another interesting thing about the home is that while we know now where it is and a bit how it looks, we haven't seen inside and don't have too many details regarding the property.
This could be because we know the couple is trying to maintain a bit of their privacy. Though Meghan comes from a Hollywood background and Harry was born Royal – meaning they're used to the attention – it must get old to be constantly followed around all the time. Maybe that's why they're keeping more specific details private.
Not the only farmhouse lovers
We know that Meghan seems to have a thing for farmhouses, as she had her bachelorette party at one and she uses one as her vacation home. That being said, she's not the only one who loves these types of homes.
Another famous couple renovated a farmhouse and moved in with their family. We're talking about none other than Chip and Joanna Gaines. We have to wonder if Meghan watches Fixer Upper and that's where she got the idea from.
The Soho farmhouse
We already mentioned that this wasn't the only farmhouse that holds a special place in Meghan's heart. In fact, it's not even the only farmhouse in the Cotswolds that she fell in love with. As we said, the Duchess celebrated her bachelorette party at the Soho Farmhouse.
Of course by bachelorette party, we mean a weekend at this gorgeous spa resort that typically costs around $7,700 a night. It's believed, however, that her and her guests didn't indulge in treatments, and just spent the weekend celebrating friendship.
Romantic escape
Apparently, Harry is a bit protective over Meghan when it comes to how popular she has become. He wants to keep her out of the spotlight as much as possible, and also enjoys a nice break every once in a while as well.
Harry knows how much the world loves his wife, but sometimes he wants her all to himself for a romantic getaway. And we already know the couple enjoys their privacy. This could be why the two opted to rent their vacation spot before they were even married.
Keeping weekends free
It seems that the couple have been spending more and more time at their romantic countryside getaway since getting married. Sources actually say that Harry has been seen less around the palace because Meghan prefers to spend weekends at their Cotswolds home.
She fell in love with the estate from the moment she saw it and drags Harry their as often as possible. Of course her husband is eager to do whatever he can to make his wife happy, and vacationing there probably isn't exactly a struggle for him.
Welcoming a baby
Within the next few months, there will be another member added to the Royal Family and this little bundle of joy is much-anticipated around the world. Everyone is waiting for Meghan to give birth so they can have another Royal baby to obsess and swoon over.
We also wonder, however, if the newlyweds will take time away after welcoming their baby. Perhaps they'll want to enjoy some time alone where they can spend time with their son or daughter in peace – perhaps in their Cotswolds farmhouse.