When a man and woman go on a first date, is it a deal breaker if the woman is taller? That's a question many women ask themselves when searching for their ideal partner. But even though there is a great deal of focus on height, it's not the most important thing in a relationship. After all, there are a lot of happy couples in which the woman is taller than the man.
Daniel Radcliffe and Erin Darke
The Harry Potter star met girlfriend Erin Darke in 2012, while working on the film Kill Your Darlings. Daniel Radcliffe is only 5'5″ while Darke is 5'7″, so she towers over him in heels.
The world fell in love with the star couple when a video was released of the pair performing Eminem's The Real Slim Shady together during karaoke night at a bar in California. Although Radcliffe is the more famous of the two, Darke is an actress in her own right, appearing in several television shows and films.
Chrissy Teigen and John Legend
John Legend and Chrissy Teigen are on the short list of our favorite celebrity couples. The R&B singer and his model wife are just so cute together that we can't get enough of them.
Although they are allegedly the same height, Teigen is several inches taller than Legend in photos, especially in heels. They met when Teigen starred as Legend's love interest in the music video for his hit song Stereo all the way back in 2007.
Tina Fey and Jeff Richmond
Funny woman Tina Fey and her composer husband Jeff Richmond have quite a noticeable height disparity. Jeff Richmond is relatively short, measuring in at 5'3″, while Tina Fey stands 5'5″, and of course is taller depending on her shoes.
They met in 1993 in Chicago and have been married since 2001. The pair frequently collaborates, working together on projects including Saturday Night Live, 30 Rock, and most recently, the Mean Girls musical, proving that height truly doesn't matter.
Cameron Diaz and Benji Madden
This celebrity power couple met in 2014, when they were introduced by Good Charlotte musician Benji Madden's brother, who was dating actress Cameron Diaz's friend (none other than Nicole Richie, of course).
They hit it off and were married after only a few months of dating, because, as Diaz said, she just knew he was her husband. They are very much in love and Diaz doesn't seem to mind at all that she stands at least an inch and a half taller than him.
Joe Jonas and Sophie Turner
Joe Jonas has dated a lot of tall women, but it seems that with Sophie Turner, he has finally found his perfect match.
Turner, who became famous for playing Sansa Stark on the hit series Game of Thrones, and Jonas of the boy band the Jonas Brothers, are one of Hollywood's hottest young couples, and have become known for trolling paparazzi, making faces and staring down the photographers. Turner is quite tall at 5'9″ while Jonas is two inches shorter.
Adam Levine and Behati Prinsloo
Maroon 5 frontman Adam Lavine had a reputation for being a playboy, that is, until he fell for model Behati Prinsloo and everything changed.
The two are supposedly around the same height, but when we see them in pictures, it seems pretty clear that Prinsloo is at least a bit taller, particularly in heels. This adorable couple tied the knot in 2014 and they have two daughters together. The two say they plan to have at least a few more children, and have dreams of building a big family.
Pharrell Williams and Helen Lasichanh
Singer Pharrell Williams had to work hard to win over the heart of now wife Helen Lasichanh.
She was dating someone else when the pair first met, so he waited patiently, then pursued her once she was single, and they dated for several years before getting married. Lasichanh is a model and designer and tends to stay out of the public eye. She is reported to be quite tall, at 5'11", but doesn't let having a shorter husband stop her from wearing heels.
Claudia Schiffer and Matthew Vaughn
Claudia Schiffer is a former supermodel, and like many models, unusually tall at 5'11", but that didn't scare director Matthew Vaughn away. Vaughn wanted to propose to Schiffer in a special way, after all, she was a supermodel.
He commissioned an artist to make a painting with the words "will you marry me" on it. Schiffer responded in kind, with another painting, which said "yes." Sure he's a bit shorter than her, but they didn't mind, and tied the knot in 2002.
Mark Wahlberg and Rhea Durham
Actor Mark Wahlberg is about an inch shorter than his wife, model Rhea Durham, but this stunning couple doesn't seem to think twice about it.
They met through a mutual friend in 2001, and in a very nontraditional (or extremely traditional?) move, Wahlberg took Durham to church for their first date. It seems like it worked out pretty well for the happy couple, who wed in 2009 and have four children together. Wahlberg has even said that Durham is the one who made him believe in love.
Mick Jagger and L'Wren Scott
Rock star Mick Jagger and stylist and fashion designer L'Wren Scott were together from 2001 until she sadly passed away in 2014.
After the pair met in Paris and fell in love, they collaborated, with Scott designing Jagger's costumes for his tours with the Rolling Stones. Scott, at 6'3″ stood a full five inches taller than the Rolling Stones frontman, who measures in at 5'10". However, the height difference never seemed to affect Jagger's confidence when they appeared together at events.
Geena Davis and Reza Jarrahy
Actress Geena Davis is notoriously tall, standing six feet tall, soaring above many men and women. She says she hated her height when she was young, but that it later helped her in her acting career, and she learned to love it.
In 2001 she married surgeon Reza Jarrahy, who is a few inches shorter than her. They have three children together, but unfortunately, after 17 years of marriage, have now filed for a divorce. We don't think it had anything to do with their height, though.
Sophie Dahl and Jamie Cullum
Looking at pictures of Sophie Dahl and Jamie Cullum, it's hard not to notice the huge height difference. Former model Dahl is 5'11" without shoes, while singer and jazz pianist Cullum is said to be about 5'4″, although reports vary slightly.
Either way, the height difference between these two has been a much-discussed topic among the gossip writers, but the couple simply doesn't care. Dahl has said that she thinks all the focus on their height is a bit weird, and hey, they're in love and they're happy.
Nicolas Sarkozy and Carla Bruni
Former president of France Nicolas Sarkozy met singer and model Carla Bruni in 2007. They married a few months later, and she began to accompany the president on state visits.
Like most models, she is taller than average, at 5'9″, while Sarkozy is several inches shorter than her at 5'5″. Unlike some of the other couples we've seen, Sarkozy is reportedly sensitive about his height. Bruni frequently wears flats when they go out in public, and Sarkozy has been accused of wearing disguised platform shoes to give him a boost.
Gigi Hadid and Zayn Malik
At 5'10", top model Gigi Hadid has dated several men shorter than her, but has now been with singer Zayn Malik for over two years (despite a brief breakup in March).
According to Hadid, the young celebs are very much in love. Malik is only about an inch shorter than Hadid, but when she's wearing heels the height difference is more noticeable. Whatever the drama, we can all agree that this dazzling couple looks fabulous together, height difference and all.
Nicole Kidman and Keith Urban
Actress Nicole Kidman is known for her height – she stands at 5'11" in bare feet. Her husband, singer Keith Urban, is no shorty, but at 5'10" she dwarfs him when she shows up to events in high heels.
Kidman has said that she knew she wanted to marry Urban after only a month, and they wed so quickly they really only got to know each other after they'd tied the knot. But it seems to have worked out – they've been married for 12 years and have two daughters together.
Jason Statham and Rosie Huntington-Whiteley
Actor Jason Statham and model Rosie Huntington-Whiteley are reportedly around the same height, but one look at them on the red carpet says otherwise, and Huntington-Whiteley's four-inch heels make her look even taller.
The two met while filming Transformers in 2010. Statham, known for his many roles in action movies, doesn't seem to have any problems with appearing on the arm of a taller woman, and the couple always looks impeccable when they make appearances together. Statham and Huntington-Whitely are engaged and have a son together.
Rod Stewart and Penny Lancaster
This celebrity couple has been together for 19 years, and married since 2007, proving that as long as you are in love, a bit of a height difference doesn't mean anything.
Singer Rod Stewart is 5'10", three inches shorter than his 6'1″ wife, model Penny Lancaster, who doesn't let the height difference scare her away from high heels even though she looms over him in pictures. Stewart and Lancaster are frequently seen out and about as a pair, and have two children together.
Tom Cruise and Katie Holmes
Tom Cruise and Katie Holmes were one of the most public celebrity couples from his couch-jumping love proclamation on Oprah in 2005 to their divorce in 2012.
Although a lot of rumors surround the marriage, we'll never know what really happened. What we do know, however, is that at 5'9″, Holmes is quite a bit taller than Cruise who stands at 5'7″. The two also have a daughter together, named Suri, who Holmes won sole custody of in the divorce.
Michael J. Fox and Tracy Pollan
Michael J. Fox has been a beloved actor since the '80s and he will probably always be a big name in Hollywood, especially for his roles in the Back to the Future films and Doc Hollywood.
His stunning wife Tracy Pollan is best known for her portrayal of Ellen Reed on the '80s sitcom Family Ties – the two actually met on the show and began dating before marrying in 1988. While Tracy is no giant, she's about an inch taller than Fox's 5'5", and it's apparent when she wears heels – she is also a year older than him.
Sylvester Stallone and Brigitte Nielsen
Sylvester Stallone made one of the most successful careers in Hollywood for himself. From Rocky to Rambo, he mastered the world of sports dramas and action films.
He also has had some beautiful, not to mention tall, wives over the years. Stallone is not a short man at 5'10", but Brigitte Nielsen is about 6'1" so she is quite a bit taller than her ex hubby. Stallone's current wife, Jennifer Flavin, is less than an inch shorter than him, so perhaps she wears flat shoes often.
Charlize Theron and Sean Penn
Charlize Theron and Sean Penn are both household names, but you may not remember that they dated for two years and were even engaged at one point.
Theron, best known for her award-winning portrayed of Aileen Wuornos in Monster is rather tall and stands at 5'10", while her ex Sean Penn is about two inches shorter. Penn began acting early on and broke through as the hilarious Jeff Spicoli in Fast Times at Ridgemont High, but perhaps his best known for his acclaimed performance in Mystic River.
Liv Tyler and David Gardner
Liv Tyler is probably best known for her roles in That Thing You Do!, Lord of the Rings, and Armageddon.
She has been with her current partner, sports and entertainment manager David Gardner since 2014 and they have a son and daughter together. Tyler stands at 5'10" and must take after her father Steven Tyler (Aerosmith lead singer) in the height department. Clearly, Gardner doesn't mind that his partner is just a bit taller than him and the two seem happily in love.
Isabella Rossellini and Martin Scorsese
We're taking a walk down memory lane with this classic couple, Isabella Rossellini and Martin Scorsese.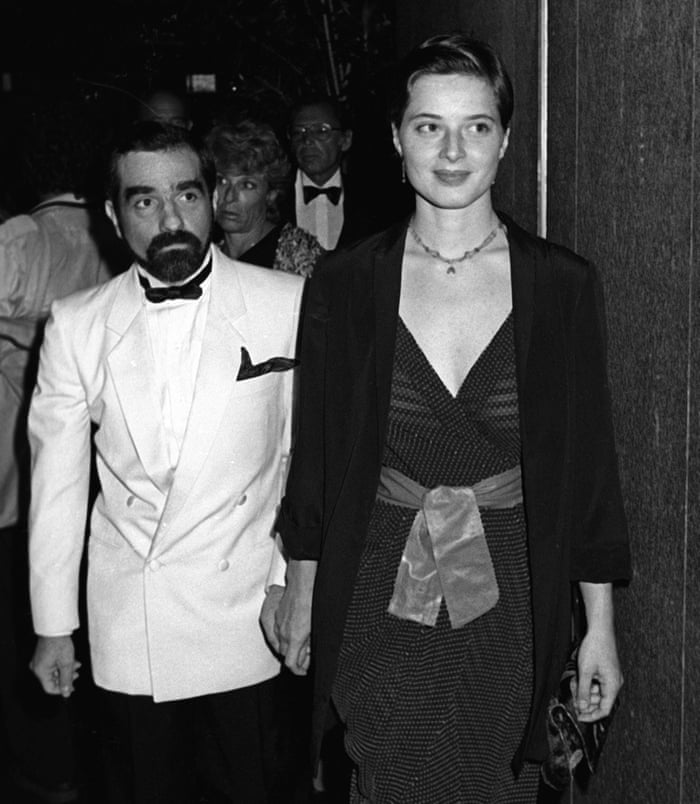 The Italian actress is not necessarily so tall, but she is four inches taller than her film directing former husband, Scorsese, who is 5'4". The two were only married for three years in the early '80s, but they did not put their height difference down as a reason for their divorce. Both went on to continue their careers and remain friends all those years later.
Alessandra Ambrosio and Jamie Mazur
While businessman Jamie Mazur is not suffering in the looks department, he is a bit shorter than his 5'9" model of an ex-fiancé, Alessandra Ambrosio.
While we don't think their height difference is why they broke off their ten year engagement, it was a bit of a shock when the two called it quits in March 2018. The Brazilian former Victoria Secret angel says that her busy schedule contributed to the breakup because she was constantly traveling and marriage isn't her biggest priority.
Kaley Cuoco and Johnny Galecki
While we are all thrilled that Penny and Leonard were able to make it work and eventually get married in The Big Bang Theory, the real life actors unfortunately did not.
Though Kaley Cuoco and Johnny Galecki were also dating for about two years in real life, their relationship wasn't as lucky. They remain on good terms and at least we can still see them together on the show. We don't care that Cuoco is an inch taller than Galecki because they're too cute as an onscreen couple to notice.
Matthew Vaughn and Claudia Schiffer
Film producer and director Matthew Vaughn has been married to the lovely German model, Claudia Schiffer, since 2002.
Though he is 6′ tall and technically his wife only stands at 5'11", she rarely wears flats and is consistently seen towering over him. They haven't let this stand in their way and have kept their heads tall – very tall – throughout their more than 15 year marriage. Even if Vaughn were self-conscious during the times his wife is taller, we think his career makes him seem larger than life.
Coco Rocha and James Conran
Coco Rocha isn't one of the most famous models, but Tyra Banks did call her "The Queen of Posing" and that's what she became known for after that. Rocha has appeared on multiple international magazines and in different makeup and fashion commercials, as well.
Her husband James Conran is an established artist and also became her part-time manager. The two are big philanthropists and are big on charity work and activism. While he is three inches shorter than her 5'10", it doesn't matter when you're that much in love.
Karolína Kurková and Archie Drury
Back in the day, Karolína Kurková was one of the top paid models of her time. Now, while she is still successful and just as gorgeous as ever, she is retired from being a Victoria Secret angel.
Her husband, Archie Dury is a small time actor and, though he is an inch taller than his stylish wife, not many models wear flats, and Kurková often appears inches taller than him. They make it work though because they're too adorable of a couple not to.
Adrianne Curry and Christopher Knight
Adrianne Curry and her ex husband Christopher have both led lives in the public eye, with her being the first winner of America's Next Top Model and he being Peter Brady from the 1970s TV series, The Brady Bunch.
While Dr. Phil predicted their divorce, it had nothing to do with their two inch height difference, but rather their constant arguing. Curry is a whopping 5'11", while Knight stands at 5'9" and though it made for some slightly awkward pictures, the two didn't let it bother them.
Aziz Ansari and Courtney McBroom
While unfortunately comedian Aziz Ansari and professional chef Courtney McBroom were only together for about two years, they were actually a darling couple while they lasted. The two would be spotted all over town together holding hands and attending events.
One big thing people noticed was that McBroom is taller than Ansari, who is 5'6". It's just a slight height difference of about an inch, but it was pretty noticeable throughout their relationship. Though probably not the reason for their split, it was something interesting about the couple.
Brooke Shields and Chris Henchy
Actress Brooke Shields is not actually taller than her screenwriter husband, Chris Henchy, with bare feet. If the two go out, however, and she chooses to wear shoes that have any more than an inch heel, she will be just a wee bit above him.
Neither of the two in this duo are short people, with Henchy at 6'1" and Shields at 6′, and they clearly seem fine with the close call height difference. They've been together since 2001 and have two, probably tall, daughters.
Jenna Elfman and Bodhi Elfman
Jenna Elfman is a comedic actress best known for her roles on TV sitcoms. Her husband, Bodhi, is also an actor, most known for his role on the mystery sci-fi Touch and for his recurring role in Criminal Minds.
The two have been married since 1995 and we can only imagine that Bodhi hates when she wears heels. Jenna is about an inch taller than her husband, who stands at 5'9", but the two seem to make it work just fine.
Deryck Whibley and Ariana Cooper
Sum 41 frontman Deryck Whibley is not super short, but when he's standing next to his wife, model Ariana Cooper, he looks tiny. That's because she stands at a whopping six feet tall, dwarfing her 5'6″ husband by half a foot.
Whibley says she has been a good influence on his life, and helped him recover from problems with substance abuse. This is Whibley's second marriage, after marrying singer Avril Lavigne (who is incidentally 5'1″) for four years.
Seth Green and Clare Grant
Actor Seth Green and actress, model, and producer Clare Grant met each other at the reopening of a comic book store in 2007, where Green was signing autographs and Grant was the photographer.
Even though at 5'7″ she is taller than him by three inches, their shared love of comics brought them together. They began dating after running into each other several times, and Green surprised her with a marriage proposal shortly after. We think they look stunning together, height difference and all.
Padma Lakshmi and Salman Rushdie
Padma Laksmi is the charming hostess of Top Chef and has also published a cookbook of her own. She has proven to be quite talented with her diverse works from modeling, to acting and TV hosting, to writing.
Her ex husband Salman Rushdie has also had a successful writing career. The two were married for three years and though, at 5'9", she is two inches taller than him, we doubt that was why their marriage ended.
Peter Dinklage and Erica Schmidt
It's no secret that Peter Dinklage's wife is taller than him. In fact, the 4'5″ actor, best known for playing Tyrion Lannister on the fantasy drama series Game of Thrones, is married to a woman over a foot taller than him.
Dinklage and theater director Erica Schmidt tied the knot in 2005 and have two children together. They are known for keeping their personal life, well, personal, but they also occasionally give us some adorable PDA on the red carpet.